Ruth and Billy Graham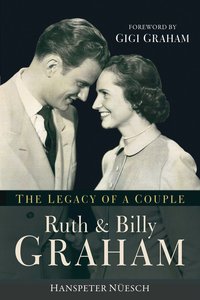 No one has preached the gospel to more people than evangelist Billy Graham. But behind this exceptional man is an equally exceptional woman who made his global ministry possible. Through her love, support, prayers, and personal ministry, Ruth helped shape the ten core values that have been foundational to the Grahams' ministry:
· partnership
· authenticity
· humility
· intimacy
· focus
· integrity
· faith
· global responsibility
· empowerment
· grace

In light of these core values, personal friend of the Grahams and director for Campus Crusade for Christ International in Switzerland Hanspeter Nüesch describes both the life and ministry of Billy and Ruth. This deeply personal book illuminates the legacy the Grahams leave to couples doing ministry today and into the future, sharing stories and anecdotes from their life and times. Includes a foreword from Gigi Graham and more than one hundred photographs that capture the life of one of the most influential figures of the last century.

- Publisher
You May Also Be Interested In
About "Ruth and Billy Graham"
No one has preached the gospel to more people than evangelist Billy Graham. But behind this exceptional man is an equally exceptional woman who made his global ministry possible. Through her love, support, prayers, and personal ministry, Ruth helped shape the ten core values that have been foundational to the Grahams' ministry:
· partnership
· authenticity
· humility
· intimacy
· focus
· integrity
· faith
· global responsibility
· empowerment
· grace

In light of these core values, personal friend of the Grahams and director for Campus Crusade for Christ International in Switzerland Hanspeter Nüesch describes both the life and ministry of Billy and Ruth. This deeply personal book illuminates the legacy the Grahams leave to couples doing ministry today and into the future, sharing stories and anecdotes from their life and times. Includes a foreword from Gigi Graham and more than one hundred photographs that capture the life of one of the most influential figures of the last century.
- Publisher


Meet the Author
Hanspeter Nuesch
Hanspeter Nuesch has been director of Campus Crusade for Christ International in Switzerland for thirty years and is editor of Christliches Zeugnis magazine. The director of six EXPLO-Congresses, including EXPLO 2000 International, Nuesch has also pioneered partnership ministries in Cuba, Francophone Africa, Russia, the Himalayas, Japan, and North Korea. He has been the initiator of the Christ Day events in several countries, bringing together many thousands in prayer for their nations and towns. Hanspeter is a personal friend of the Graham family and lives with his wife, Vreni, in Switzerland.