Sabbath Keeping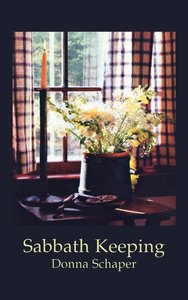 The third in Cowley's Cloister Book series, Sabbath Keeping is a collection of ten meditations, each exploring a different aspect of keeping the sabbath and ending with a prayer. Since it is a difficult art in a society that does not value rest, Schaper encourages small acts of sabbath keeping that initially focus on physical and mental renewal but soon broaden to questions of justice and power. She begins with a chapter called ?What is Sabbath?? and goes to the Bible for definitions, from the ordinances surrounding sabbath in the Hebrew Bible to the gospel stories about the Sabbath. Other meditations concern sabbath and music, sabbath and the body, prayer, focusing and decluttering, sabbath and memory, sabbath as the relinquishing of power, and sabbath as an act of resistance.

- Publisher
You May Also Be Interested In
About "Sabbath Keeping"
The third in Cowley's Cloister Book series, Sabbath Keeping is a collection of ten meditations, each exploring a different aspect of keeping the sabbath and ending with a prayer. Since it is a difficult art in a society that does not value rest, Schaper encourages small acts of sabbath keeping that initially focus on physical and mental renewal but soon broaden to questions of justice and power. She begins with a chapter called ?What is Sabbath?? and goes to the Bible for definitions, from the ordinances surrounding sabbath in the Hebrew Bible to the gospel stories about the Sabbath. Other meditations concern sabbath and music, sabbath and the body, prayer, focusing and decluttering, sabbath and memory, sabbath as the relinquishing of power, and sabbath as an act of resistance.
- Publisher


Meet the Author
Donna Schaper
Donna Schaper is a lifelong gardener, having been the granddaughter of a strawberry and potato farmer in upstate New York. She has written many books and publishes frequent essays in Newsday, Philadelphia Inquirer, on NPR, National Catholic Reporter, Christian Century, and others. She is the winner of an ACLU Courage Award. She is currently a senior minister at Judson Memorial Church in New York City.