Sabidura De Mujeres En La Biblia: Las Gigantas De La Fe Hablan a Nuestras Vidas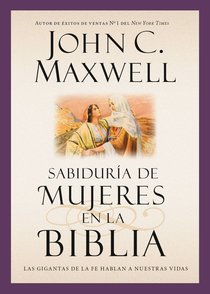 El renombrado autor núm. 1 del New York Times, John C. Maxwell, comparte lecciones sobre el automejoramiento y liderazgo extraídas de ejemplos de mujeres de la Biblia.

Si pudiera pasar unos minutos con Rut, Sara, María y las demás, ¿qué lecciones ellas compartirían con usted? Extraído de cincuenta años de estudio de la Biblia, John Maxwell comparte la sabiduría sobre la vida y el liderazgo inspirado por nueve mujeres de la Biblia. Aprenda cómo Dios bendice las promesas que usted mantiene con Él, por qué usted debe seguir su corazón para encontrar su esperanza, y cómo no perder su momento con Dios. Puede utilizar las preguntas incluidas para estudiarlo por su cuenta o en grupo. Tome esta travesía con John y estas gigantas de la fe quienes se enfrentaron a desafíos épicos, sufrieron grandes penurias por Dios y sus familias, y sus vidas fueron transformadas.

- Publisher
You May Also Be Interested In
About "Sabidura De Mujeres En La Biblia: Las Gigantas De La Fe Hablan a Nuestras Vidas"
El renombrado autor núm. 1 del New York Times, John C. Maxwell, comparte lecciones sobre el automejoramiento y liderazgo extraídas de ejemplos de mujeres de la Biblia.

Si pudiera pasar unos minutos con Rut, Sara, María y las demás, ¿qué lecciones ellas compartirían con usted? Extraído de cincuenta años de estudio de la Biblia, John Maxwell comparte la sabiduría sobre la vida y el liderazgo inspirado por nueve mujeres de la Biblia. Aprenda cómo Dios bendice las promesas que usted mantiene con Él, por qué usted debe seguir su corazón para encontrar su esperanza, y cómo no perder su momento con Dios. Puede utilizar las preguntas incluidas para estudiarlo por su cuenta o en grupo. Tome esta travesía con John y estas gigantas de la fe quienes se enfrentaron a desafíos épicos, sufrieron grandes penurias por Dios y sus familias, y sus vidas fueron transformadas.
- Publisher


Meet the Author
John C Maxwell
John C. Maxwell is a #1 New York Times bestselling author, coach, and speaker who has sold more than thirty million books in fifty languages. He has been identified as the #1 leader in business by the American Management Association and the most influential leadership expert in the world by Business Insider and Inc. magazines. He is the founder of the John Maxwell Company, the John Maxwell Team, EQUIP, and the John Maxwell Leadership Foundation, organizations that have trained millions of leaders from every country of the world. The recipient of the Mother Teresa Prize for Global Peace and Leadership from the Luminary Leadership Network, Dr. Maxwell speaks each year to Fortune 500 companies, presidents of nations, and many of the world's top business leaders. - Koorong



John C. Maxwell is an internationally recognized leadership expert, speaker, and author who has sold over 13 million books. His organizations have trained more than 2 million leaders worldwide. Dr. Maxwell is the founder of Injoy Stewardship Services and EQUIP. Every year he speaks to Fortune 500 companies, international government leaders, and organizations as diverse as the United States Military Academy at West Point and the National Football League. A New York Times, Wall Street Journal, and Business Week best-selling author, Maxwell was one of 25 authors and artists named to Amazon.com's 10th Anniversary Hall of Fame. Three of his books, The 21 Irrefutable Laws of Leadership, Developing the Leader Within You and The 21 Indispensable Qualities of a Leader have each sold over a million copies. - Publisher.