Sabotaged (#05 in Alaskan Courage Series)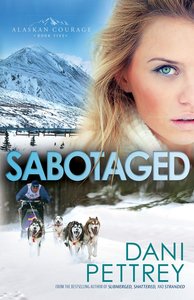 Finally Returned Home, Reef McKeena
Finds His Beloved Alaska Facing Its Greatest Threat

Growing up, goody-two-shoes Kirra Jacobs and troublemaker Reef McKenna were always at odds. Now, working together as search-and-rescue for Alaska's arduous Iditarod race, a growing attraction seems to be forcing aside old arguments. Then Reef catches Kirra sneaking from camp in the middle of the night.

Kirra's uncle, a musher in the race, has disappeared. Kirra and Reef quickly track the man, but what they discover is harrowing: Frank's daughter has been kidnapped. Kirra and Reef, along with the entire McKenna family, are thrown into a race to stop a shadowy villain who is not only threatening a girl's life--but appears willing to unleash one of the largest disasters Alaska has ever seen.

Pettrey is the Winner of the 2014 Daphne du Maurier Award for Inspirational Romantic Suspense

"Pettrey keeps the stakes high for her characters and her readers who know and love the whole McKenna clan will be pushing for romance to bloom as suspense mounts." Booklist about Silenced

"Readers who enjoy Lynette Eason, Irene Hannon, and DiAnn Mills will add this to their to-read list." Library Journal about Stranded

"I have not been this enthralled since the O'Malley series by Dee Henderson!" Christian Manifesto

- Publisher
You May Also Be Interested In
About "Sabotaged (#05 in Alaskan Courage Series)"
Finally Returned Home, Reef McKeena
Finds His Beloved Alaska Facing Its Greatest Threat

Growing up, goody-two-shoes Kirra Jacobs and troublemaker Reef McKenna were always at odds. Now, working together as search-and-rescue for Alaska's arduous Iditarod race, a growing attraction seems to be forcing aside old arguments. Then Reef catches Kirra sneaking from camp in the middle of the night.

Kirra's uncle, a musher in the race, has disappeared. Kirra and Reef quickly track the man, but what they discover is harrowing: Frank's daughter has been kidnapped. Kirra and Reef, along with the entire McKenna family, are thrown into a race to stop a shadowy villain who is not only threatening a girl's life--but appears willing to unleash one of the largest disasters Alaska has ever seen.

Pettrey is the Winner of the 2014 Daphne du Maurier Award for Inspirational Romantic Suspense

"Pettrey keeps the stakes high for her characters and her readers who know and love the whole McKenna clan will be pushing for romance to bloom as suspense mounts." Booklist about Silenced

"Readers who enjoy Lynette Eason, Irene Hannon, and DiAnn Mills will add this to their to-read list." Library Journal about Stranded

"I have not been this enthralled since the O'Malley series by Dee Henderson!" Christian Manifesto
- Publisher


Meet the Author
Dani Pettrey
Dani Pettrey is a wife, homeschooling mom, and author. She feels blessed to write inspirational romantic suspense because it incorporates so many things she loves--the thrill of adventure, nail biting suspense, the deepening of her characters' faith, and plenty of romance. She and her husband reside in Maryland with their two teenage daughters. Visit her website at www.danipettrey.com. A
Customer Reviews For "Sabotaged (#05 in Alaskan Courage Series)"
Write Your Own Review
Enjoyable
By Bri,

Oct 14 2015
I've read the previous 4 books of the series and was really looking forward to reading Sabotaged 

While it's definitely a good worthwhile read with suspense and excitement woven through with the touching romance, it seemed a bit too repetitive to the first book of the series with the romantic side of the story and had me a bit disappointed. There were times I was asking myself if I had already read it when I knew I hadn't because it was so similar.
However, that said, it was still a worthwhile and enjoyable read and good way to relax 
---
Excellent Romantic Suspense
By Iola,

Mar 30 2015
Sabotaged is a fast-paced race against time as Kirra and Reef search for Meg and try to find why she and Frank have been targeted. Both Kirra and Reef have to address to some aspects of their past they are less than proud of, which adds a depth to the overall plot. It's hard to say anything more about why I liked it without giving away important plot details, so I'll just say I thought the suspense elements were excellent, and I loved the way the romance developed over the course of Sabotaged. Ah, Reef ... 

Sabotaged is the fifth and final book in Dani Pettrey's Alaskan Courage series, each of which follows the story of one of the McKenna siblings. Romantic suspense is one of my favourite genres, and I've enjoyed them all. Dani Pettrey's writing style is similar to Dee Henderson's, and I'd definitely recommend Sabotaged (and the rest of the Alaskan Courage series) to fans of Henderson's O'Malley series. 

Thanks to Bethany House and NetGalley for providing a free ebook for review.
---
Thrilling!
By Rochelle, NSW,

Feb 28 2015
Pettrey has once again grabbed me within the first couple of pages. 
Gun Point! Kidnapping! Hidden agendas! Entitlement! Love of Family and Sleuthing! Who's actually watching them? All great aspects of a good suspence.
Who is Frank Jacobs? Kirra and Reef ?? unlikely, but come on, yes!
Reef is a changed man because of his surrender to Christ. His reputation may take a little to overcome though.
Kirra's story is heartbreaking and inspiring. As it's unravelled you see the strength that she has and the healing that
is possible in Christ. Kirra is right to be cautious and watchful of the change in Reef. Is it lasting? It's beautifully part of a redeemed future.
And of Course the truth behind it ALL.

You'll love it and enjoy every page turning shift in the storyline.




{{review.title}}
By {{review.author.name}},

{{review.reviewCreatedDate | date:'MMM dd yyyy'}}

{{reviewdescription}}
{{review.text}}
---
Other Titles In The "Alaskan Courage Series" Series View All