Sacred Listening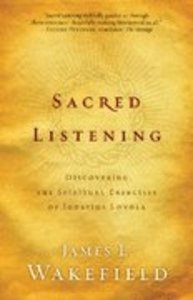 A profound call to Christian discipleship. An intensive course in Christian faith. A creative freedom to serve God that is deeply grounded in Scripture. These are ways to describe Sacred Listening, James L. Wakefield's adaptation of the classic Spiritual Exercises of Ignatius Loyola. Central to the Society of Jesus (Jesuits), the Spiritual Exercises is a manual used to direct a month-long spiritual retreat. Now adapting these time-honored Exercises specifically for Protestant Christians, James L. Wakefield encourages readers to integrate their secular goals with their religious beliefs and helps them reflect on the life of Jesus as a model for their own discipleship. Combining scholarship with classic forms of spirituality, Sacred Listening will interest church leaders and lay Christians who want to deepen their faith.

- Publisher Rediscover your faith with this adaptation of Ignatius Loyola's Spiritual Exercises for Protestants today.

- Publisher "Many people own a Bible. A lot of people read the Bible. But the task of every Bible reader is to become a Bible listener so that we can then start living the text. Ignatius of Loyola's Spiritual Exercises is one of the most influential guidebooks for directing us in listening. Sacred Listening skillfully guides us through these exercises-hopefully making listeners of us all."--Eugene Peterson, translator of The Message; professor emeritus of spiritual theology, Regent College, Vancouver, B.C."I was struck by the strong, practical, experiential approach; by the way Wakefield catches the essential spirit of the Exercises and yet adapt them to today. It is 450 years since Ignatius completed the Exercises, and I am sure he is delighted by the way Sacred Listening brings them alive today."--Thomas Green, S.J., author, Weeds Among the Wheat (commenting on an earlier draft)"Jim Wakefield has done a great service by making the Spiritual Exercises of Ignatius of Loyola accessible to all Christians who are drawn to deepening relationship with Christ. Sacred Listening offers life-changing possibilities because of its deep foundations in Scripture, prayer, and authentic engagement with similar intentional, seeking Christians. "--Jeannette A. Bakke, author, Holy Invitations"I and many others have found Ignatius' Spiritual Exercises to be the most powerful tool for helping us grow in our walk with God. Wakefield masterfully captures the heart of this life-transforming method and breaks it down in a way contemporary people can understand and put into practice. In fact, I believe this is the clearest and most practical application of Ignatius' Spiritual Exercises I've ever read. However, readers should be forewarned. In keeping with the spirit of Ignatius' exercises, this book will challenge them like few books they are likely to read. It's not for the causal reader or curiosity seeker. But for those who are hungry and ready for a life-changing encounter with the living God, I seriously doubt there is a more practical and more profound resource than this book."--Gregory A. Boyd, author, Letters from a Skeptic and Seeing Is Believing"As a Jesuit for 62 years, I have been formed by the Exercises of Ignatius of Loyola, our principal founder. During 50 years of priesthood I have been privileged to direct them hundreds of times on every continent, often the entire Exercises of 30 days, and more often shorter adaptations. I rejoice, then, at the long-awaited publication of Sacred Listening. Not only does Wakefield interpret this short spiritual classic excellently, he admirably adapts them for devout Protestants who cherish the essentials of their great heritage. Only one who understands and loves the deep spiritual dimensions of this heritage could have written this book. It will be for its readers, I hope, a classic manual for spiritual growth in genuine mystical prayer. May its readership continue to grow."--Armand M. Nigro, S.J., professor emeritus, Gonzaga University"James Wakefield has provided us with a remarkably helpful introduction to praying with the Spiritual Exercises, readable and eminently helpful, insightful and practical. Also notable: he builds on the best scholarship on the Exercises and makes it accessible to Christians of all traditions."--Gordon T. Smith, president, reSource Leadership International

- Publisher
You May Also Be Interested In
About "Sacred Listening"
A profound call to Christian discipleship. An intensive course in Christian faith. A creative freedom to serve God that is deeply grounded in Scripture. These are ways to describe Sacred Listening, James L. Wakefield's adaptation of the classic Spiritual Exercises of Ignatius Loyola. Central to the Society of Jesus (Jesuits), the Spiritual Exercises is a manual used to direct a month-long spiritual retreat. Now adapting these time-honored Exercises specifically for Protestant Christians, James L. Wakefield encourages readers to integrate their secular goals with their religious beliefs and helps them reflect on the life of Jesus as a model for their own discipleship. Combining scholarship with classic forms of spirituality, Sacred Listening will interest church leaders and lay Christians who want to deepen their faith.
- Publisher

Rediscover your faith with this adaptation of Ignatius Loyola's Spiritual Exercises for Protestants today.
- Publisher

"Many people own a Bible. A lot of people read the Bible. But the task of every Bible reader is to become a Bible listener so that we can then start living the text. Ignatius of Loyola's Spiritual Exercises is one of the most influential guidebooks for directing us in listening. Sacred Listening skillfully guides us through these exercises-hopefully making listeners of us all."--Eugene Peterson, translator of The Message; professor emeritus of spiritual theology, Regent College, Vancouver, B.C."I was struck by the strong, practical, experiential approach; by the way Wakefield catches the essential spirit of the Exercises and yet adapt them to today. It is 450 years since Ignatius completed the Exercises, and I am sure he is delighted by the way Sacred Listening brings them alive today."--Thomas Green, S.J., author, Weeds Among the Wheat (commenting on an earlier draft)"Jim Wakefield has done a great service by making the Spiritual Exercises of Ignatius of Loyola accessible to all Christians who are drawn to deepening relationship with Christ. Sacred Listening offers life-changing possibilities because of its deep foundations in Scripture, prayer, and authentic engagement with similar intentional, seeking Christians. "--Jeannette A. Bakke, author, Holy Invitations"I and many others have found Ignatius' Spiritual Exercises to be the most powerful tool for helping us grow in our walk with God. Wakefield masterfully captures the heart of this life-transforming method and breaks it down in a way contemporary people can understand and put into practice. In fact, I believe this is the clearest and most practical application of Ignatius' Spiritual Exercises I've ever read. However, readers should be forewarned. In keeping with the spirit of Ignatius' exercises, this book will challenge them like few books they are likely to read. It's not for the causal reader or curiosity seeker. But for those who are hungry and ready for a life-changing encounter with the living God, I seriously doubt there is a more practical and more profound resource than this book."--Gregory A. Boyd, author, Letters from a Skeptic and Seeing Is Believing"As a Jesuit for 62 years, I have been formed by the Exercises of Ignatius of Loyola, our principal founder. During 50 years of priesthood I have been privileged to direct them hundreds of times on every continent, often the entire Exercises of 30 days, and more often shorter adaptations. I rejoice, then, at the long-awaited publication of Sacred Listening. Not only does Wakefield interpret this short spiritual classic excellently, he admirably adapts them for devout Protestants who cherish the essentials of their great heritage. Only one who understands and loves the deep spiritual dimensions of this heritage could have written this book. It will be for its readers, I hope, a classic manual for spiritual growth in genuine mystical prayer. May its readership continue to grow."--Armand M. Nigro, S.J., professor emeritus, Gonzaga University"James Wakefield has provided us with a remarkably helpful introduction to praying with the Spiritual Exercises, readable and eminently helpful, insightful and practical. Also notable: he builds on the best scholarship on the Exercises and makes it accessible to Christians of all traditions."--Gordon T. Smith, president, reSource Leadership International
- Publisher


Meet the Author
James Wakefield
James L. Wakefield (M.Div., Denver Seminary; M.Th., Bethel Seminary; Ph.D., Marquette University) is associate professor of biblical and spiritual theology at Salt Lake Theological Seminary in Salt Lake City, Utah. He is associate pastor at Good Shepherd Lutheran Church in Sandy, Utah, and the author of J??rgen Moltmann: A Research Bibliography.