Sacred Roots (Frames Barna Group Series)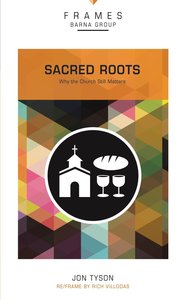 'Why should I invest myself in something that I'm not sure does any good?' This is a question many people today are asking about the church. Data shows young people are leaving the church, especially in urban contexts. Yet as Jon Tyson will show you in this Barna Frame, the church has much to offer cities---and individuals---in the 21st century. Whether you come with an open-mind, skeptical, or already committed to your local church, join Jon Tyson, lead pastor of Trinity Grace Church in New York City, as he makes the case for why church matters.

- Publisher
You May Also Be Interested In
About "Sacred Roots (Frames Barna Group Series)"
'Why should I invest myself in something that I'm not sure does any good?' This is a question many people today are asking about the church. Data shows young people are leaving the church, especially in urban contexts. Yet as Jon Tyson will show you in this Barna Frame, the church has much to offer cities---and individuals---in the 21st century. Whether you come with an open-mind, skeptical, or already committed to your local church, join Jon Tyson, lead pastor of Trinity Grace Church in New York City, as he makes the case for why church matters.
- Publisher


Meet the Authors
Barna Group
In its 30-year history, Barna Group has conducted more than one million interviews over the course of hundreds of studies, and has become a go-to source for insights about faith and culture, leadership and vocation, and generations. Barna Group has carefully and strategically tracked the role of faith in America, developing one of the nation's most comprehensive databases of spiritual indicators. Notable clients include the Salvation Army, World Vision, Habitat for Humanity, Sony, Walden Media, Easter Seals, the Humane Society, the Gates Foundation, and NBC Universal. The firm's research is often quoted in major media outlets such as CNN, USA Today, the Wall Street Journal, Fox News, Chicago Tribune, Huffington Post, the New York Times, Dallas Morning News, and the Los Angeles Times.
Jon Tyson
Jon Tyson is the Lead Pastor of Trinity Grace Church in New York City. Originally from Australia, Jon moved to the U.S, 12 years ago. He works, lives, and serves in one of the largest cultural and future missionary contexts of the world, the urban center. Trinity Grace has 5 churches in New York City. He lives in Manhattan with his wife, Christy, and their two children. Twitter: @JonTyson
Other Titles In The "Frames Barna Group Series" Series View All