Sacred Waiting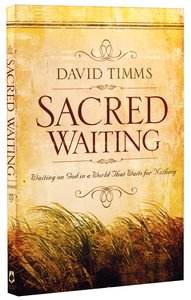 Waiting--the Key to Joy, Peace, and Abundance.

No one likes to wait. Our irritation level rises in checkout lines, train stations, restaurants, and doctors' offices. We don't have time to waste. But Scripture constantly speaks of waiting: "Those who wait upon the Lord shall renew their strength" (Isaiah 40:31).

The good news is that waiting on God is much more than watching the clock. Waiting plays a vital role in our spiritual formation as we draw closer to the Lord and respond to His leading. Challenging believers to rediscover this lost spiritual discipline, pastor and Bible professor David Timms reveals the hidden treasures of waiting on God--the peace and joy of being with Him.

The heroes of the faith all waited on God. And just like Abraham, Moses, and David, you'll find that your best moments arise from God's timing, not your own. Every covenant God made came at the end of a season of waiting. God's rewards wait for you when you learn to practice Sacred Waiting.



- Publisher In a world that waits for nothing, Sacred Waiting helps readers learn to wait on God. David Timms challenges believers to be attentive to God as were the faithful from Noah to David, from Paul to John--and all the saints in between. He demonstrates that their best moments arose from God's timing, not their own. In the process he reveals deep, transforming truths for those who want to go deeper into their relationship with God. Grounded in the stories of Scripture and everyday illustrations, Sacred Waiting explores a vital yet often neglected or misunderstood spiritual discipline.

- Publisher
You May Also Be Interested In
About "Sacred Waiting"
Waiting--the Key to Joy, Peace, and Abundance.

No one likes to wait. Our irritation level rises in checkout lines, train stations, restaurants, and doctors' offices. We don't have time to waste. But Scripture constantly speaks of waiting: "Those who wait upon the Lord shall renew their strength" (Isaiah 40:31).

The good news is that waiting on God is much more than watching the clock. Waiting plays a vital role in our spiritual formation as we draw closer to the Lord and respond to His leading. Challenging believers to rediscover this lost spiritual discipline, pastor and Bible professor David Timms reveals the hidden treasures of waiting on God--the peace and joy of being with Him.

The heroes of the faith all waited on God. And just like Abraham, Moses, and David, you'll find that your best moments arise from God's timing, not your own. Every covenant God made came at the end of a season of waiting. God's rewards wait for you when you learn to practice Sacred Waiting.


- Publisher

In a world that waits for nothing, Sacred Waiting helps readers learn to wait on God. David Timms challenges believers to be attentive to God as were the faithful from Noah to David, from Paul to John--and all the saints in between. He demonstrates that their best moments arose from God's timing, not their own. In the process he reveals deep, transforming truths for those who want to go deeper into their relationship with God. Grounded in the stories of Scripture and everyday illustrations, Sacred Waiting explores a vital yet often neglected or misunderstood spiritual discipline.
- Publisher


Meet the Author
David Timms
Australian born, David Timms teaches at Hope International University in California.