Same-Sex Marriage: A Thoughtful Approach to God's Design For Marriage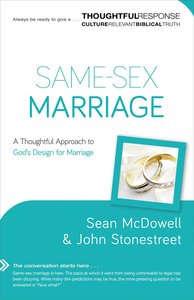 :Same-sex marriage is here, presenting unique challenges and opportunities. How do those who follow Christ faithfully answer the standard talking points for same-sex marriage? And how can they best articulate the case for one-man, one-woman marriage in everyday conversation?

Sean McDowell and John Stonestreet believe a thoughtful approach to God's design for marriage is the answer to both questions. The key is not a contentious attitude towards those who believe in same-sex marriage, but a winsome perspective that is faithful to Christ, committed to truth, and shaped by a love for God and others. Christians need to know that because Christ has risen, there is no such thing as "all hope is lost." They are still called to engage culture even if they are viewed as wrong, illegal and intolerant.

- Publisher
You May Also Be Interested In
About "Same-Sex Marriage: A Thoughtful Approach to God's Design For Marriage"
:Same-sex marriage is here, presenting unique challenges and opportunities. How do those who follow Christ faithfully answer the standard talking points for same-sex marriage? And how can they best articulate the case for one-man, one-woman marriage in everyday conversation?

Sean McDowell and John Stonestreet believe a thoughtful approach to God's design for marriage is the answer to both questions. The key is not a contentious attitude towards those who believe in same-sex marriage, but a winsome perspective that is faithful to Christ, committed to truth, and shaped by a love for God and others. Christians need to know that because Christ has risen, there is no such thing as "all hope is lost." They are still called to engage culture even if they are viewed as wrong, illegal and intolerant.
- Publisher


Meet the Authors
Sean Mcdowell
A popular speaker at schools, churches, and conferences, focuses on helping young people think critically about key moral issues. He is a highschool teacher, holds advanced degrees in philosophy and theology, and has compiled Josh McDowell's Youth Ministry Handbook and authored Ethix: Being Bold in a Whatever World and co-authored Understanding Intelligent Design along with William A. Dembski and The Credible Resurrection with Josh McDowell (Gospel Light, 2008).
He is currently the general editor for The Apologetics Study Bible for Teens. Sean has also contributed to YouthWorker Journal, Decision Magazine, the Christian Research Journal, and writes regular columns for www.planetwisdom.com and www.christianworldviewnetwork.com.
John Stonestreet
JOHN STONESTREET is a speaker and fellow of the Chuck Colson Center for Christian Worldview, as well as the co-host with Eric Metaxas of Breakpoint, the Christian worldview radio program founded by the late Chuck Colson. John is a sought-after speaker at conferences, colleges and churches on areas of faith and culture, theology and apologetics. He holds degrees from Trinity Evangelical Divinity School and Bryan College and is the co-author of Making Sense of Your World: A Biblical Worldview.