Sarah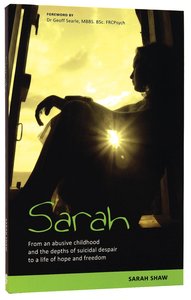 From an abusive childhood and the depths of suicidal despair to a life of hope and freedom.

Sarah Shaw looked in control of her life. She had a successful career as a manager in retail business. But she came to a point when she could no longer keep up appearances, by controlling her tormented inner world. So explosive was her inner pain, and so damaged was she by the consequences of childhood abuse, that she was eventually put on a lifetime's incapacity benefit. Her consultant psychiatrist was at a loss how to help. This story is not, however, about the horrors of abuse, but is an extraordinary testimony to the triumph of God's healing love.

The author writes:
"So many abused, hurting people don't understand their brokenness. They are stuck, as I was, in the tormenting symptoms of guilt, self-hatred, multiple fears, depression, Obsessive Compulsive Disorder, eating disorders, self-harming and suicidal tendencies. The book gives insights into the Christian healing ministry I received and offers hope to victims of abuse, without negating the reality of the desperate inner conflicts and struggles."

"This remarkable book is about true recovery of health by a deeply wronged woman, whom I met more than ten years ago. Rarely is this subject written about, and even more uncommonly in Sarah's calm and thoughtful way."
- Dr Geoff Searle MBBS. BSc. FRCPsych (Sarah's Pychiatrist)

- Publisher
You May Also Be Interested In
About "Sarah"
From an abusive childhood and the depths of suicidal despair to a life of hope and freedom.

Sarah Shaw looked in control of her life. She had a successful career as a manager in retail business. But she came to a point when she could no longer keep up appearances, by controlling her tormented inner world. So explosive was her inner pain, and so damaged was she by the consequences of childhood abuse, that she was eventually put on a lifetime's incapacity benefit. Her consultant psychiatrist was at a loss how to help. This story is not, however, about the horrors of abuse, but is an extraordinary testimony to the triumph of God's healing love.

The author writes:
"So many abused, hurting people don't understand their brokenness. They are stuck, as I was, in the tormenting symptoms of guilt, self-hatred, multiple fears, depression, Obsessive Compulsive Disorder, eating disorders, self-harming and suicidal tendencies. The book gives insights into the Christian healing ministry I received and offers hope to victims of abuse, without negating the reality of the desperate inner conflicts and struggles."

"This remarkable book is about true recovery of health by a deeply wronged woman, whom I met more than ten years ago. Rarely is this subject written about, and even more uncommonly in Sarah's calm and thoughtful way."
- Dr Geoff Searle MBBS. BSc. FRCPsych (Sarah's Pychiatrist)

- Publisher
- Koorong

High street book shops are lined with topselling stories about abused lives. The news is full of stories of the abused and their abusers. There is an incredible demand for information, but there is so little hope for many looking for full healing from the consequences of abuse. This book is different to many others. It is a powerful story that has emerged from a background of extreme abuse and journals her road to healing. Sarah Shaw looked in control of her life, had a successful career as a manager in retail business but eventually came to a point where she snapped and was put on a lifetime's incapacity benefit. The consultant psychiatrist assigned to her admitted he had come to the end of how he could help without using electric shock treatment. Nobody knew she had been emotionally deprived and severely abused up to the age of 18. Yet, this is not a story detailing the horrors of Sarah's abuse. It is a story of a profound journey, facing and unlocking the pain and bringing extraordinary healing through Jesus Christ.
- Publisher


Table Of Contents
Foreword By Dr Geoff Searle & Fiona Horrobin - Preface - 1. When Can I Go Home? - 2. I Hate Love! - 3. A Stairway To Freedom - 4. Broken Childhood - 5. Embracing Parts I Didn't Want - 6. The Truth Of My Early Years - 7. Release From Psychiatric Care - 8. How Can I Forgive? - 9. Pain, Anger And Bitterness -10. God Finds Me! - 11. Don't Leave Me! - 12. Relationship And Intimacy - 13. In The Hands Of My Father
Customer Reviews For "Sarah"
Write Your Own Review
Heartfelt and Honest
By Samantha,

Jun 09 2013
This book was both the most heart wrenching and uplifting stories i have read all in one. The honesty sarah has when sharing about the struggles and horrific things in her life is astounding. I recommend this book for sure, it shows such a transformation only by the grace and love of our heavenly father. A must read!!!
---
Hope
By Vikki,

May 31 2011
God is truly so gracious and loving and no matter where we are in our walk there is always hope.
What a blessing this book has been to me.
May God bless you Sarah Shaw and all that read her story.
{{review.title}}
By {{review.author.name}},

{{review.reviewCreatedDate | date:'MMM dd yyyy'}}

{{reviewdescription}}
{{review.text}}
---