Save the Date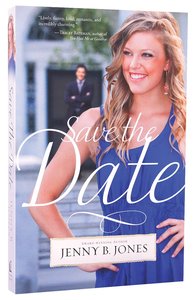 You are cordially invited to the wedding of the year with the most unlikely bride and groom. Save the date...and say your prayers.

When funding for Lucy's non-profit job is pulled, she is determined to find out why. Enter Alex Sinclair Enterprises--the primary donor to Lucy's non-profit organizaiton.

Both Lucy and Alex have something the other desperately wants.

Alex has it all...except for the votes he needs to win his bid for Congress. Despite their mutual dislike, Alex makes Lucy a proposition: pose as his fiancee in return for the money she desperately needs. Bound to a man who isn't quite what he seems, Lucy finds her heart--and her future--on the line.

Save the Date is a spunky romance that will have readers laughing out loud as this dubious pair try to save their careers, their dreams...and maybe even a date.



- Publisher
You May Also Be Interested In
About "Save the Date"
You are cordially invited to the wedding of the year with the most unlikely bride and groom. Save the date...and say your prayers.

When funding for Lucy's non-profit job is pulled, she is determined to find out why. Enter Alex Sinclair Enterprises--the primary donor to Lucy's non-profit organizaiton.

Both Lucy and Alex have something the other desperately wants.

Alex has it all...except for the votes he needs to win his bid for Congress. Despite their mutual dislike, Alex makes Lucy a proposition: pose as his fiancee in return for the money she desperately needs. Bound to a man who isn't quite what he seems, Lucy finds her heart--and her future--on the line.

Save the Date is a spunky romance that will have readers laughing out loud as this dubious pair try to save their careers, their dreams...and maybe even a date.


- Publisher


Meet the Author
Jenny B Jones
<DIV><span style="">Jenny B. Jones is the author of A Katie Parker Production series. Though now an adult, she still relates to the trauma and drama of teen life. She is thrilled to see her writing dreams come true, as her previous claim to fame was singing the &ldquo;Star Spangled Banner&rdquo; at a mule-jumping championship. (The mules were greatly inspired.) The author resides in Arkansas, where, as a teacher, she hangs out with teens on a regular basis. You can visit her at www.jennybjones.com. </span></DIV>
Customer Reviews For "Save the Date"
Write Your Own Review
fun lighthearted
By Marija,

Jul 14 2018
Reading 'Save the Date' is kind of like watching a good chick-flick: likeable characters, funny senarios, engaging twists and turns, and of course, a happy ever after! A fun, lighthearted read.
---
Brilliant!!!
By Hannah,

May 23 2016
This book was brilliant! One of the funniest, sweetest, most beautiful stories I've read in a long time. I loved the crazy relationship between the two main characters, only heightened by how different they were. It had me laughing the entire way through the book as they sparred against each other all the while trying not to fall in love. 

But alongside the laughter, the author's passion for overlooked people in this world, especially those 'graduating' out of foster care, really had me captivated and desperately wanting (alongside the main characters) for them to find a place to belong. It's rare to find a book which balances humour and passion so well. Would definitely recommend it!

---
Brilliant!
By Jacqui,

May 02 2016
I loved this story and found it difficult to put down. I found myself totally absorbed into the lives of the characters. My emotions went up and down with each of them. I struggled with them, laughed and yes almost cried.  I chose to read this book after reading a blog by the author on fostering children and how God has given her a passion for these kids. This passion and love oozes through every page of this book. Brilliant! 
---
Love this book!
By Grace,

Feb 25 2015
I love this book! I've read it multiple times, and it always makes me laugh. Jenny B Jones has such a great sense of humour, and her books are 'real' (or as real as fiction can be!) and honest. I found this book to be an easy read, however some people who have borrowed it said they found it heavy and hard to read because of some of the content. (There are themes of death, abandonment, homelessness, ect.) Because of this I would suggest this book to an older teenage audience. 
---
Loved this modern "Mail order bride" story.
By Margot,

Jan 29 2015
I love reading historical mail-order bride stories - watching as deep, abiding love grows between two strangers thrown together by circumstances. "Save the Date" is just like one of these, set in modern times. I read it n two days, and just couldn't put it down. There are so many wonderful layers to the story which is so much more than just a romance. The importance of family, forgiveness and faith; the importance of fighting Satan's lies and learning God's truth about you and living God's truth rather than Satan's lies; the importance of finding your worth in Christ and valuing others as worthy. All this and romance, humour, interesting characters and seeing how it all ended up three years later make this a new favoutite for this reader. Hope you enjoy it too.
{{review.title}}
By {{review.author.name}},

{{review.reviewCreatedDate | date:'MMM dd yyyy'}}

{{reviewdescription}}
{{review.text}}
---