Saved Without a Doubt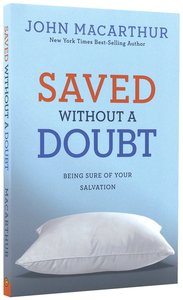 Am I really saved? Am I going to heaven? How can I know for sure? Every believer has wrestled with these questions at some point in their journey. Saved Without A Doubt tackles this challenging topic by examining scripture to uncover the truth of salvation, while addressing tough questions that can hinder our faith. Readers will develop a Bible-based theology of salvation and be encouraged to securely rest in their personal relationship with Christ.

- Publisher
You May Also Be Interested In
About "Saved Without a Doubt"
Am I really saved? Am I going to heaven? How can I know for sure? Every believer has wrestled with these questions at some point in their journey. Saved Without A Doubt tackles this challenging topic by examining scripture to uncover the truth of salvation, while addressing tough questions that can hinder our faith. Readers will develop a Bible-based theology of salvation and be encouraged to securely rest in their personal relationship with Christ.

- Publisher
- Koorong

For more than 30 years trusted pastor and teacher MacArthur has delivered practical, biblical insights for helping Christians grow in their own journey of faith. Based on the timeless originals, these new editions feature a fresh look and study guides for both personal and group reflection, all centered on topics and issues that matter most to believers.
- Publisher


Meet the Author
John Macarthur
John MacArthur, the author of numerous best selling books that have touched millions of lives, is pastor-teacher of Grace Community Church in Sun Valley, California and president of The Master's College and Seminary. He is also president of Grace to You, the ministry that produces the international radio program Grace to You and a host of print, audio, and Internet resources. He authored the notes in the Gold Medallion Award-winning The MacArthur Study Bible. John and his wife, Patricia, have four children who have given them thirteen grandchildren.- Publisher.
Table Of Contents
:

acknowledgments
Introduction
part One: Is It A Done Deal?
what The Bible Teaches About The Lasting Nature Of Salvation
1. A Collective Work
2. Those Troubling Verses
3. The Ties That Bind
4. The Inevitable Glory
part Two: It It Real?
how You Can Tell Whether You Are Truly A Christian
5. Eleven Tests From An Apostolic Expert
part Three: Is It Something I Can Feel?
how You Can Experience The Assurance Of A Secure Salvation
6. Dealing With Doubt
7. Adding Virtue Upon Virtue
8. Gaining Victory
9. Persevering Through It All
Discussion Guide
Notes