Saying Yes to God as a Family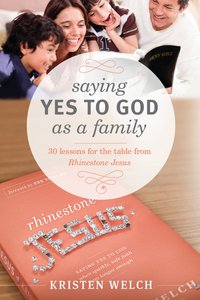 Do you want to spend time with your kids in the Bible, but aren't sure where to start? Do you wonder how to even keep your kids around the table in the first place?

Kristen Welch, author of the popular We Are THAT Family blog, has been there. And she's learned it all starts with a yes-with your family saying yes to God right where you are, in the middle of ordinary life.

Saying Yes to God as a Family is a 30-day Scripture reading plan for families, with practical guidance on how to connect with God's Word around the dinner table. You'll find questions for your kids, conversation starters and icebreakers, family prayers, and more. Kristen shares her own story of why this has been so important for her family and how they got started, offers suggestions that have worked for them, and provides a practical, easy approach for your own family to adopt.

Connect with your kids today and strengthen their faith as you break bread together-and go deeper with the Bread of Life.

(Inspired by Kristen's book Rhinestone Jesus; includes Scripture memory verses and bonus illustrated quotes.)

- Publisher
You May Also Be Interested In
About "Saying Yes to God as a Family"
Do you want to spend time with your kids in the Bible, but aren't sure where to start? Do you wonder how to even keep your kids around the table in the first place?

Kristen Welch, author of the popular We Are THAT Family blog, has been there. And she's learned it all starts with a yes-with your family saying yes to God right where you are, in the middle of ordinary life.

Saying Yes to God as a Family is a 30-day Scripture reading plan for families, with practical guidance on how to connect with God's Word around the dinner table. You'll find questions for your kids, conversation starters and icebreakers, family prayers, and more. Kristen shares her own story of why this has been so important for her family and how they got started, offers suggestions that have worked for them, and provides a practical, easy approach for your own family to adopt.

Connect with your kids today and strengthen their faith as you break bread together-and go deeper with the Bread of Life.

(Inspired by Kristen's book Rhinestone Jesus; includes Scripture memory verses and bonus illustrated quotes.)
- Publisher


Meet the Author
Kristen Welch
Kristen Welch is a mom just like you and me--only funnier. Her blog, We Are THAT Family (www.wearethatfamily.com) is read by over 70,000 women a month, who enjoy her often-hilarious, always-honest reflections on motherhood, marriage, and Christian life. In 2010, she went to Kenya as a blogger for Compassion International, and regularly contributes to online magazine Blissfully Domestic and (In)Courage, an inspirational blog for women. She lives in Texas with her husband and three children.