Scattered Petals (#02 in Texas Dreams Series)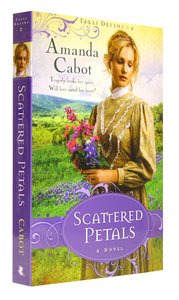 "Crafting characters rich with emotion, Amanda Cabot pens a compelling story of devastation and loss, of healing and second chances. But most of all, of transcending faith."--Tamera Alexander, bestselling author, From a Distance"Scattered Petals combines memorable imagery and likable characters in a story that illustrates both the redemptive power of forgiveness and the beauty of unselfish love in ways readers will not soon forget."--Stephanie Grace Whitson, author, A Claim of Her Own "A wonderful novel with heartrending depth of raw, human emotions, Scattered Petals brings the reader face to face with unspeakable tragedy. Amanda Cabot's gifted pen tells a beautiful story of sorrow, pain, and forgiveness with the hope of unconditional love set amidst the backdrop of the 1856 Texas frontier. Don't miss it!"--Maggie Brendan, author, Heart of the West series"Scattered Petals is an exceptional book! Insight into situations that sometimes appear unfathomable, the healing power of God's love, and the consolation he provides so magnificently are written with heartfelt emotion that brings the characters' romantic love to life. Do not miss Scattered Petals. Reading it is an experience that fills the heart with joy."--Elaine Barbieri, New York Times bestselling author"In Scattered Petals, Amanda Cabot crafts a compelling story of lives shattered by cowardice and greed, of bearing unspeakable pain and sorrow and regret--all redeemed and restored through faith and trust in a steadfast Lord. From the deepest of tragedies comes the sweetest love. A wonderful sense of community and endearing core cast have me eagerly awaiting the next book in the Texas Dreams series. Bravo, Ms. Cabot!"--Vicki Hinze, award-winning author, Forget Me Not"Amanda Cabot tugs hard at the heartstrings in Scattered Petals, the deeply emotional story of a resilient woman who faces unimaginable tragedy and a selfless man who gives all to see her spirit restored. I highly recommend this poignant novel."--Vickie McDonough, award-winning author, Texas Boardinghouse Brides series."In Scattered Petals, Amanda Cabot creates wonderful, believable characters that capture your heart. Both hero and heroine have deep wounds that make them say 'never again.' But with a strong story and a skillful touch, Cabot turns their 'never again' into 'forever after.'"--Dorothy Clark, award-winning author

- Publisher Longing for adventure, Priscilla Morton leaves Boston and heads for Texas, never dreaming that the adventure she seeks will leave her badly injured and her parents dead. Priscilla is determined to rebuild her life and make a home for herself in the beautiful Hill Country. But the bandits who took her parents' lives also destroyed her hope for the future.
Ranch foreman Zachary Webster knows what the future holds for him, and it's not a woman like Priscilla. She deserves a cultured East Coast gentleman, not a cowboy who's haunted by memories of his mistakes. The best thing he can do is leave her alone.
When necessity draws them together, Priscilla and Zach begin to forge a life that, like the scattered petals of her childhood, is filled with promise. But then the past intrudes, threatening their very existence.

- Publisher
You May Also Be Interested In
About "Scattered Petals (#02 in Texas Dreams Series)"
"Crafting characters rich with emotion, Amanda Cabot pens a compelling story of devastation and loss, of healing and second chances. But most of all, of transcending faith."--Tamera Alexander, bestselling author, From a Distance"Scattered Petals combines memorable imagery and likable characters in a story that illustrates both the redemptive power of forgiveness and the beauty of unselfish love in ways readers will not soon forget."--Stephanie Grace Whitson, author, A Claim of Her Own "A wonderful novel with heartrending depth of raw, human emotions, Scattered Petals brings the reader face to face with unspeakable tragedy. Amanda Cabot's gifted pen tells a beautiful story of sorrow, pain, and forgiveness with the hope of unconditional love set amidst the backdrop of the 1856 Texas frontier. Don't miss it!"--Maggie Brendan, author, Heart of the West series"Scattered Petals is an exceptional book! Insight into situations that sometimes appear unfathomable, the healing power of God's love, and the consolation he provides so magnificently are written with heartfelt emotion that brings the characters' romantic love to life. Do not miss Scattered Petals. Reading it is an experience that fills the heart with joy."--Elaine Barbieri, New York Times bestselling author"In Scattered Petals, Amanda Cabot crafts a compelling story of lives shattered by cowardice and greed, of bearing unspeakable pain and sorrow and regret--all redeemed and restored through faith and trust in a steadfast Lord. From the deepest of tragedies comes the sweetest love. A wonderful sense of community and endearing core cast have me eagerly awaiting the next book in the Texas Dreams series. Bravo, Ms. Cabot!"--Vicki Hinze, award-winning author, Forget Me Not"Amanda Cabot tugs hard at the heartstrings in Scattered Petals, the deeply emotional story of a resilient woman who faces unimaginable tragedy and a selfless man who gives all to see her spirit restored. I highly recommend this poignant novel."--Vickie McDonough, award-winning author, Texas Boardinghouse Brides series."In Scattered Petals, Amanda Cabot creates wonderful, believable characters that capture your heart. Both hero and heroine have deep wounds that make them say 'never again.' But with a strong story and a skillful touch, Cabot turns their 'never again' into 'forever after.'"--Dorothy Clark, award-winning author
- Publisher

Longing for adventure, Priscilla Morton leaves Boston and heads for Texas, never dreaming that the adventure she seeks will leave her badly injured and her parents dead. Priscilla is determined to rebuild her life and make a home for herself in the beautiful Hill Country. But the bandits who took her parents' lives also destroyed her hope for the future.
Ranch foreman Zachary Webster knows what the future holds for him, and it's not a woman like Priscilla. She deserves a cultured East Coast gentleman, not a cowboy who's haunted by memories of his mistakes. The best thing he can do is leave her alone.
When necessity draws them together, Priscilla and Zach begin to forge a life that, like the scattered petals of her childhood, is filled with promise. But then the past intrudes, threatening their very existence.
- Publisher


Meet the Author
Amanda Cabot
Amanda Cabot is an accomplished author under various pen names. She is a charter member of Romance Writers of America, the co-founder of its New Jersey chapter, and an avid traveler. She lives in Cheyenne, Wyoming.
Customer Reviews For "Scattered Petals (#02 in Texas Dreams Series)"
Write Your Own Review
Almost Better Than the First in the Series
By Margot,

Jun 19 2014
I'm so glad I read the first in the series, Paper Roses, first and that Amanda Cabot wrote a second. Although the main focus is now on Zach, who was a minor character in Paper Roses, and Priscilla, we also keep up with many other minor characters in parallel stories which began on Paper Roses.
Scattered Petals starts out very dramatically and the character development is excellent. We share in the tragedies faced by Priscilla and Zach, feel their emotions, delight in their spiritual awakening and wonder at God's ability to work all things together for the good of those who love Him. Even the evil characters were well developed.
I especially loved Amanda Cabot's use of some new words - stretching my vocabulary and making me appreciate the 'dictionary' function on my e-reader.
I recommend this book highly and am looking forward to reading the third and final in the series.
{{review.title}}
By {{review.author.name}},

{{review.reviewCreatedDate | date:'MMM dd yyyy'}}

{{reviewdescription}}
{{review.text}}
---
Other Titles In The "Texas Dreams" Series