Science and Religion (Problems In Theology Series)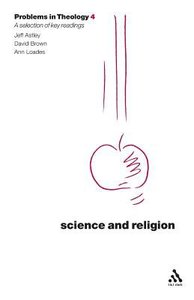 This reader brings together carefully selected material from a wide range of authors on the relationships between science, religion, and theology. It samples the recent literature on the challenges to religion posed by both modern physics and evolutionary biology, as well as exploring the relationship between scientific and theological approaches. Topics include models of interaction between science and religion, historical reflections on the 'conflict thesis', scientific and theological methods, creation and modern cosmology, uncertainty and chaos, creationism and evolutionary theory, the anthropic principle and design, and the challenge of reductionism.

- Publisher
You May Also Be Interested In
About "Science and Religion (Problems In Theology Series)"
This reader brings together carefully selected material from a wide range of authors on the relationships between science, religion, and theology. It samples the recent literature on the challenges to religion posed by both modern physics and evolutionary biology, as well as exploring the relationship between scientific and theological approaches. Topics include models of interaction between science and religion, historical reflections on the 'conflict thesis', scientific and theological methods, creation and modern cosmology, uncertainty and chaos, creationism and evolutionary theory, the anthropic principle and design, and the challenge of reductionism.
- Publisher


Meet the Authors
Jeff Astley (Ed)
Revd Jeff Astley (Ph.D., University of Durham) is Honorary Professorial Fellow in Practical Theology and Christian Education, University of Durham. He was appointed as Founding Director of the North of England Institute for Christian Education in 1981; he previously worked in parish ministry, university chaplaincy and higher education.
His publications include The Philosophy of Christian Religious Education; Theological Perspectives on Christian Formation; Choosing Life? Christianity and Moral Problems; Learning in the Way: Research and Reflection on Adult Christian Education; Children, Churches and Christian Learning; Ordinary Theology: Looking, Listening and Learning in Theology; Exploring God-Talk: Using Language in Religion and Christ of the Everyday.
David Brown
Professor David Brown FBA was the Van Mildert Professor of Divinity in the Department of Theology and Religion at the University of Durham. His publications include The Divine Trinity; Continental Philosophy and Modern Theology; Tradition and Imagination; Discipleship and Imagination; God and Enchantment of Placeand God and Grace of Body.
Ann Loades (Ed)
Ann Loades is Professor Emeritus of Theology at Durham University in England.
Other Titles In The "Problems In Theology" Series View All