Scripture Alone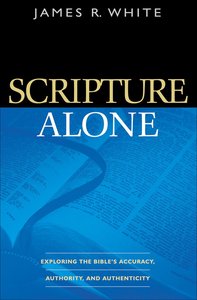 A denial of the sufficiency of Scripture is at the core of almost every form of opposition to the Christian faith today. Scripture Alone is written to instill a passionate love for and understanding of the Bible. In this defense of God's inspired Word, readers will comprehend what "God's Word"is, the nature of Scripture, the relationship of the Bible to tradition, how to apply Scripture to today's issues, and much more. Included is a faith-inspiring study of the canon--what it is and where it came from.

- Publisher
You May Also Be Interested In
About "Scripture Alone"
A denial of the sufficiency of Scripture is at the core of almost every form of opposition to the Christian faith today. Scripture Alone is written to instill a passionate love for and understanding of the Bible. In this defense of God's inspired Word, readers will comprehend what "God's Word"is, the nature of Scripture, the relationship of the Bible to tradition, how to apply Scripture to today's issues, and much more. Included is a faith-inspiring study of the canon--what it is and where it came from.
- Publisher


Meet the Author
James R White
James R. White is the author of several acclaimed books, including The King James Only Controversy, The God Who Justifies, Scripture Alone:Exploring the Bible's Accuracy, Authority and Authenticity; Same Sex Controversy:Defending and Clarifying the Bible's Message About Homosexuality and The Forgotten Trinity. He is an elder of the Phoenix Reformed Baptist Church, director of Alpha and Omega Ministriesa Christian apologetics organization, an adjunct professor with Golden Gate Baptist Theological Seminary, and a professor of apologetics with Columbia Evangelical Seminary. He and his family live in Phoenix.