Sea Red, Sea Blue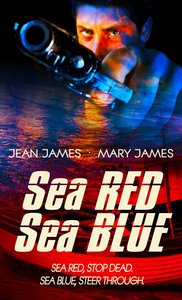 When Katherine Gale steps onto the white-sand beach, all her pent up longings say it is time to live boldly-to love boldly. She walks the lonely shore, and love sings in her heart. It draws her to the Miss Iris, an old fishing boat she is destined to own, and it stabs deep when diver, Lee Thorpe, walks into her life. It all feels so terribly right...but something feels terribly wrong. When the peril she left behind invades her new life, and the Miss Iris reveals secrets from a mysterious past, paradise shows its thorny side. A night of terror sends Katherine on the only course she can take, but the blue waters run red while Lee searches for Katherine's path in the sea.

- Publisher
You May Also Be Interested In
About "Sea Red, Sea Blue"
When Katherine Gale steps onto the white-sand beach, all her pent up longings say it is time to live boldly-to love boldly. She walks the lonely shore, and love sings in her heart. It draws her to the Miss Iris, an old fishing boat she is destined to own, and it stabs deep when diver, Lee Thorpe, walks into her life. It all feels so terribly right...but something feels terribly wrong. When the peril she left behind invades her new life, and the Miss Iris reveals secrets from a mysterious past, paradise shows its thorny side. A night of terror sends Katherine on the only course she can take, but the blue waters run red while Lee searches for Katherine's path in the sea.
- Publisher


Meet the Authors
Mary James
Mary James is the editor and publisher at Low Carbon Productions. In 2008, she coauthored"Homes for a Changing Climate: Passive Houses in the U.S." with Katrin Klingenberg and Mike Kernagis. She was the editor and publisher of "Home Energy" magazine for 10 years. She lives in Northern California.