Search For the Spiritual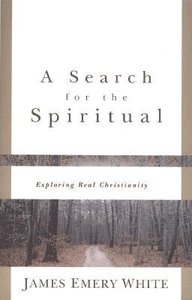 This is the book to put into the hands of seekers. With disarming candor (and no "churchspeak"), White explores the basics of the Christian faith.

- Publisher 160 Pages

- Publisher "A practical roadmap that will help any serious spiritual seeker in his or her quest for ultimate reality. Read it--and then give it to someone else who is on the journey!"--Mark Mittelberg, coauthor, Becoming a Contagious Christian; executive vice president, Willow Creek Association"I wish this book had been around when I was an atheist and started to seek God. It's a no-nonsense, practical, insightful guide that will help all seekers in their quest for spiritual truth. If you're investigating whether there's any substance to the Christian faith, you must read this important book."--Lee Strobel, Willow Creek Community Church and author of The Case for Christ"This book makes the basics of Christianity accessible to those who need it most--seekers. If you've been looking for a book to put into someone's hands who is searching, this is it."--Bill Hybels, senior pastor, Willow Creek Community Church"For anyone seriously seeking to explore the claims of Chrisitanity, A Search for the Spiritual is must reading. This first rate presentation offers a faithful, refreshing, and insightful look at the essence of the Chrisitan faith with striking clarity in line with C. S. Lewis's Mere Christianity."--David S. Dockery, president, Union University"A Search for the Spiritual is a well-crafted, down-to-earth address to all who are seriously searching for answers to some of the real basic issues of life. It is also a great read for those who wish to know how to give explanations for their faith in terms that can be understood and in words that are meaningful to our culture."--Walter C. Kaiser Jr., president, Gordon-Conwell Theological Seminary

- Publisher
You May Also Be Interested In
About "Search For the Spiritual"
This is the book to put into the hands of seekers. With disarming candor (and no "churchspeak"), White explores the basics of the Christian faith.
- Publisher

160 Pages
- Publisher

"A practical roadmap that will help any serious spiritual seeker in his or her quest for ultimate reality. Read it--and then give it to someone else who is on the journey!"--Mark Mittelberg, coauthor, Becoming a Contagious Christian; executive vice president, Willow Creek Association"I wish this book had been around when I was an atheist and started to seek God. It's a no-nonsense, practical, insightful guide that will help all seekers in their quest for spiritual truth. If you're investigating whether there's any substance to the Christian faith, you must read this important book."--Lee Strobel, Willow Creek Community Church and author of The Case for Christ"This book makes the basics of Christianity accessible to those who need it most--seekers. If you've been looking for a book to put into someone's hands who is searching, this is it."--Bill Hybels, senior pastor, Willow Creek Community Church"For anyone seriously seeking to explore the claims of Chrisitanity, A Search for the Spiritual is must reading. This first rate presentation offers a faithful, refreshing, and insightful look at the essence of the Chrisitan faith with striking clarity in line with C. S. Lewis's Mere Christianity."--David S. Dockery, president, Union University"A Search for the Spiritual is a well-crafted, down-to-earth address to all who are seriously searching for answers to some of the real basic issues of life. It is also a great read for those who wish to know how to give explanations for their faith in terms that can be understood and in words that are meaningful to our culture."--Walter C. Kaiser Jr., president, Gordon-Conwell Theological Seminary
- Publisher


Meet the Author
James Emery White
James Emery White (Ph.D., Southern Baptist Theological Seminary) was the fourth president of Gordon-Conwell Theological Seminary. Dr. White is the founding and senior pastor of Mecklenburg Community Church in Charlotte, North Carolina, which began with a single family and grew to over 3,000 families with over 5,000 active attenders. Mecklenburg experiences more than 70 percent of its growth from the unchurched.He holds . He has done advanced graduate study at Vanderbilt University, and continuing studies at Oxford University, Oxford, England. White is the author of twelve books, including Embracing the Mysterious God; A Search for the Spiritual; Serious Times and The Prayer God Longs For.
Table Of Contents
1 the Benefits Of Becoming A Seeker
2 how To Explore Christianity Authentically
3 is Somebody Out There?
4 what Is God Like?
5 why The Life Of Jesus Matters
6 why The Death Of Jesus Matters
7 why The Resurrection Of Jesus Matters
8 the Bible
9 why Is There So Much Suffering?
10 there Can't Be Just One Way
11 disappointment With Christians
12 but Will It Work?
13 stop Signs For Seekers
14 when The Search Is Over