Searching For Eternity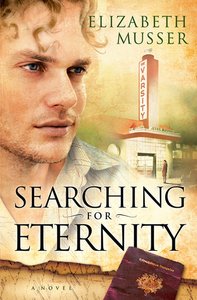 Searching for Eternity


A youth yanked out of the only life he's known to live on the other side of the Atlantic with a grandmother he's never seen before....

A mother who shrugs off her son's anguish with breezy assurances like, "You'll love America, Emile."...

A father's sudden disappearance from his son's life with no explanation or even a good-bye....

French-born Emile de Bonnery lands in the strange environment of 1960s Atlanta with decidedly mixed emotions. Some memories make Emile want to believe the best of his father. Others cause him to fear the worst. Does his mother know more than she's willing to tell?

Determined to learn the truth, Emile finds an ally and friend--who seems to be hiding secrets of her own. Together they search for answers...and what they find changes everything.ELIZABETH MUSSER, an Atlanta native, lives in southern France with her husband and their two sons. The Dwelling Place is her fifth novel.
You May Also Be Interested In
About "Searching For Eternity"
Searching for Eternity


A youth yanked out of the only life he's known to live on the other side of the Atlantic with a grandmother he's never seen before....

A mother who shrugs off her son's anguish with breezy assurances like, "You'll love America, Emile."...

A father's sudden disappearance from his son's life with no explanation or even a good-bye....

French-born Emile de Bonnery lands in the strange environment of 1960s Atlanta with decidedly mixed emotions. Some memories make Emile want to believe the best of his father. Others cause him to fear the worst. Does his mother know more than she's willing to tell?

Determined to learn the truth, Emile finds an ally and friend--who seems to be hiding secrets of her own. Together they search for answers...and what they find changes everything.ELIZABETH MUSSER, an Atlanta native, lives in southern France with her husband and their two sons. The Dwelling Place is her fifth novel.
- Koorong


Meet the Author
Elizabeth Musser
Elizabeth Goldsmith Musser, a native of Atlanta, Georgia, attended the Westminster Schools and then received her B.A. in English and French from Vanderbilt University, where she was a member of Phi Beta Kappa and graduated magna cum laude. ýThough passionate about writing since childhood, Elizabeth's first book was not published until 1996. Two Crosses was the first of a trilogy set during both the Algerian War for independence from France (1957-1962) and the present day civil war in Algeria. Her work has since been translated into Dutch, French, and German. ýSince 1989, Elizabeth and her