Seasons Under Heaven (#01 in Cedar Circle Seasons Series)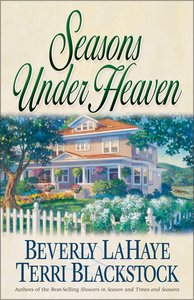 Book one. Four families living on a Southern cul-de-sac struggle to arrange for a heart transplant for a terminally ill nine-year-old.

- Publisher 352 Pages

- Publisher What does a child's life-threatening illness cost the neighbors of Cedar Circle? What joys can be hidden in life's greatest tragedies? Behind brightly lit windows and on front porches, marriages are tested and mended, hearts broken, hopes resurrected, dreams released and reformed, values and futures shaped, and faith rekindled . . . or found for the first time. Taking the best and worst of human circumstances-the tender moments, the laughter, the tragedies, and the triumphs-Beverly LaHaye and Terri Blackstock weave from them a poignant, warmly human novel. Gently uncovering the inner struggles, stresses, and joys that surface among neighbors living on a quiet cul-de-sac, the authors show us the power of ordinary lives being knit into a strong, many-textured fabric of family and friendships.

- Publisher
Also Available In
You May Also Be Interested In
About "Seasons Under Heaven (#01 in Cedar Circle Seasons Series)"
Book one. Four families living on a Southern cul-de-sac struggle to arrange for a heart transplant for a terminally ill nine-year-old.
- Publisher

352 Pages
- Publisher

What does a child's life-threatening illness cost the neighbors of Cedar Circle? What joys can be hidden in life's greatest tragedies? Behind brightly lit windows and on front porches, marriages are tested and mended, hearts broken, hopes resurrected, dreams released and reformed, values and futures shaped, and faith rekindled . . . or found for the first time. Taking the best and worst of human circumstances-the tender moments, the laughter, the tragedies, and the triumphs-Beverly LaHaye and Terri Blackstock weave from them a poignant, warmly human novel. Gently uncovering the inner struggles, stresses, and joys that surface among neighbors living on a quiet cul-de-sac, the authors show us the power of ordinary lives being knit into a strong, many-textured fabric of family and friendships.
- Publisher


Meet the Authors
Beverly Lahaye
Beverly Lahaye is the founder of the largest women's organization in America, Concerned Women for America. The LaHayes live in southern California.
Terri Blackstock
Terri Blackstock (www.terriblackstock.com), known for her Up All Night Fiction, has sold six million books worldwide. She is the bestselling, award-winning author of Last Light, Night Light, True Light and Dawn's Light of the Restoration Series, as well as the Sun Coast Chronicles, Second Chances, Newpointe 911, and Cape Refuge series.. Her most recent books include Intervention and Double-Minds
Koorong -Editorial Review.
Other Titles In The "Cedar Circle Seasons Series" Series View All