Second Chance Brides (#02 in Texas Boardinghouse Brides Series)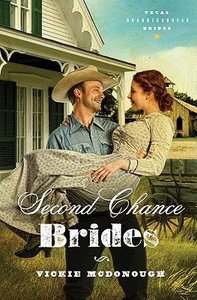 Vickie McDonough is an award-winning inspirational romance author. She has written 16 novels and novellas. Her Heartsong books, The Bounty Hunter and the Brideand Wild At Heartboth placed third in the Top Ten Favorite Historical Romance category in Heartsong Present's annual readers' contests. Her stories frequently place in national contests, such as the ACFW Book of the Year contest and the Inspirational Readers Choice Contest. She has also written book reviews for over eight years. Vickie is a wife of thirty-three years, mother of four grown sons and grandma to a feisty three-year-old girl. When she's not writing, Vickie enjoys reading, gardening, watching movies, and traveling.

- Publisher Fans of "The Anonymous Bride," will feel for Shannon O'Neil and Leah Bennett who are stranded in Lookout, Texas, without husbands or future plans. Thankfully, the marshal has ordered the rascally Corbett brothers to pay for the women's lodging at the boardinghouse, but will the brothers' idea of hosting Sunday socials really bring these women the kind of loves they long for? Will Shannon choose to marry just for security? Will Leah reject love when the challenges mount?

- Publisher
You May Also Be Interested In
About "Second Chance Brides (#02 in Texas Boardinghouse Brides Series)"
Vickie McDonough is an award-winning inspirational romance author. She has written 16 novels and novellas. Her Heartsong books, The Bounty Hunter and the Brideand Wild At Heartboth placed third in the Top Ten Favorite Historical Romance category in Heartsong Present's annual readers' contests. Her stories frequently place in national contests, such as the ACFW Book of the Year contest and the Inspirational Readers Choice Contest. She has also written book reviews for over eight years. Vickie is a wife of thirty-three years, mother of four grown sons and grandma to a feisty three-year-old girl. When she's not writing, Vickie enjoys reading, gardening, watching movies, and traveling.
- Publisher

Fans of "The Anonymous Bride," will feel for Shannon O'Neil and Leah Bennett who are stranded in Lookout, Texas, without husbands or future plans. Thankfully, the marshal has ordered the rascally Corbett brothers to pay for the women's lodging at the boardinghouse, but will the brothers' idea of hosting Sunday socials really bring these women the kind of loves they long for? Will Shannon choose to marry just for security? Will Leah reject love when the challenges mount?
- Publisher


Meet the Author
Vickie Mcdonough
VICKIE MCDONOUGH is the author of over twenty books including the "Texas Boardinghouse Brides" series. Vickie's books have won the Inspirational Reader's Choice Contest, Texas Gold, and the ACFW Noble Theme contest. Vickie lives in Oklahoma and is a wife of 35 years. She has 4 grown sons and one granddaughter. Visit Vickie's website: www.vickiemcdonough.com.
Other Titles In The "Texas Boardinghouse Brides" Series