Second Corinthians (Paideia Commentaries On The New Testament Series)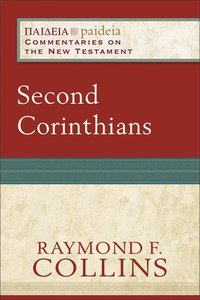 In this addition to the well-received Paideia series, a respected senior New Testament scholar examines cultural context and theological meaning in Second Corinthians. Paideia commentaries explore how New Testament texts form Christian readers by

∙ attending to the ancient narrative and rhetorical strategies the text employs
∙ showing how the text shapes theological convictions and moral habits
∙ commenting on the final, canonical form of each New Testament book
∙ focusing on the cultural, literary, and theological settings of the text
∙ making judicious use of maps, photos, and sidebars in a reader-friendly format

Students, pastors, and other readers will appreciate the historical, literary, and theological insight offered in this practical commentary.

- Publisher
You May Also Be Interested In
About "Second Corinthians (Paideia Commentaries On The New Testament Series)"
In this addition to the well-received Paideia series, a respected senior New Testament scholar examines cultural context and theological meaning in Second Corinthians. Paideia commentaries explore how New Testament texts form Christian readers by

∙ attending to the ancient narrative and rhetorical strategies the text employs
∙ showing how the text shapes theological convictions and moral habits
∙ commenting on the final, canonical form of each New Testament book
∙ focusing on the cultural, literary, and theological settings of the text
∙ making judicious use of maps, photos, and sidebars in a reader-friendly format

Students, pastors, and other readers will appreciate the historical, literary, and theological insight offered in this practical commentary.
- Publisher


Meet the Author
Raymond F Collins
Raymond F. Collins is Professor Emeritus of New Testament at The Catholic University of America in Washington, D.C. He is also a Roman Catholic priest.
Table Of Contents
Introduction
2 Corinthians 1:1-2--the Letter Opening
2 Corinthians 1:3-2:13--part 1: Ministerial Crises
2 Corinthians 1:3-11--a Prayer Of Praise And The Asian Experience
2 Corinthians 1:12-2:4--paul's Defense Of His Integrity
2 Corinthians 2:5-11--a Disciplinary Matter
2 Corinthians 2:12-13--frustration In Troas
2 Corinthians 2:14-7:4--part 2: Paul Explains And Defends His Apostolic Ministry
2 Corinthians 2:14-3:6--anxiety And Confidence
2 Corinthians 3:7-4:6--a Glorious Ministry
2 Corinthians 4:7-5:10--the Present And The Future
2 Corinthians 5:11-6:10--a Ministry Of Reconciliation
2 Corinthians 6:11-7:4--a Plea For Personal Reconciliation
2 Corinthians 7:5-16--part 3: The Arrival And Report Of Titus
2 Corinthians 8:1-9:15--part 4: Service To God's Holy People
2 Corinthians 8:1-24--the Collection
2 Corinthians 9:1-15--a Further Appeal
2 Corinthians 10:1-13:10--part 5: An Aggressive Taskmaster
2 Corinthians 10:1-18--paul's Missionary Task
2 Corinthians 11:1-15--on The Attack
2 Corinthians 11:1-12:13--boasting Like A Fool
2 Corinthians 12:14-13:10--paul's Third Visit To Corinth
2 Corinthians 13:11-13--the Letter Closing
indexes
Other Titles In The "Paideia Commentaries On The New Testament Series" Series View All
$65.00




Available 0 Available. Expected to ship in 1 week from Australia.

Formats

$65.00




Available 0 Available. Expected to ship in 1 week from Australia.

Formats