Second Time Promise (#03 in Decisions Series)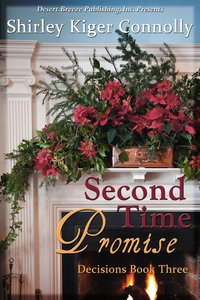 Raised by an unstable and controlling guardian, an over-protective brother, and a boat-captain grandfather, Collette Moreau's upbringing has hardly been conventional. Seeking a more refined future, she sets her hopes on marriage to an English Baron's nephew -- a choice any woman would make.

When the wedding gets postponed, Collette decides to visit an ailing uncle and learns he's not only been keeping family secrets, he highly disapproves of her fianc_. He's already engaged the services of the passionate Christian Jordan -- suspected womanizer. Uncle's plan is to induce Collette away from her betrothed toward Mr. Jordan, or, if necessary, toward Christian's pious and meddling brother, the community parson.

But should Collette comply with this preposterous whim of some distant kin? What sensible woman would agree to be wooed by a possible Romeo or religious zealot when she's about to wed Baron Kirkland Dewey's distinguished nephew?

- Publisher
You May Also Be Interested In
About "Second Time Promise (#03 in Decisions Series)"
Raised by an unstable and controlling guardian, an over-protective brother, and a boat-captain grandfather, Collette Moreau's upbringing has hardly been conventional. Seeking a more refined future, she sets her hopes on marriage to an English Baron's nephew -- a choice any woman would make.

When the wedding gets postponed, Collette decides to visit an ailing uncle and learns he's not only been keeping family secrets, he highly disapproves of her fianc_. He's already engaged the services of the passionate Christian Jordan -- suspected womanizer. Uncle's plan is to induce Collette away from her betrothed toward Mr. Jordan, or, if necessary, toward Christian's pious and meddling brother, the community parson.

But should Collette comply with this preposterous whim of some distant kin? What sensible woman would agree to be wooed by a possible Romeo or religious zealot when she's about to wed Baron Kirkland Dewey's distinguished nephew?
- Publisher


Meet the Author
Shirley Kiger Connolly
A graduate of the Institute of Children's Literature, Shirley Kiger Connolly loves to wear different hats and use both sides of her brain. With her creative mind she pens historical fiction romances laced with nuggets of inspiration, and when wearing her thinking cap, she writes nonfiction devotional books. With a third trusty hat she hopes contains a bit of wisdom, Shirley teaches Koinonia women's bible studies and often speaks at retreats or luncheons. Outside her writing and speaking time, Shirley is an active mom and grandma who loves searches for different way she can rearrange her furniture, if she's not cross-stitching or doing needlework or watching old movies with her husband. As a part-time farm woman, Shirley spends some of her moments with her chickens, her dogs, and her cats. She stays active in American Christian Fiction Writers; Hearts through History Chapter of Romance Writers of America; and last but not least Faith-Hope-Love, RWA.
Other Titles In The "Decisions Series" Series