Secret of the Prince's Tomb (#07 in Adventures In Odyssey Imagination Station Series)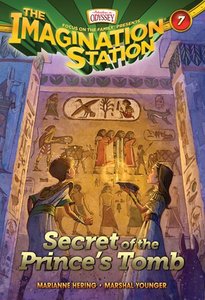 Cousins Patrick and Beth accidentally push the Imagination Station?s red button. They land in Egypt, where they befriend two children who are second cousins: a boy named Gilead and a girl named Sherah. The family is in turmoil because Gilead and Sherah?s great-grandfather has just died. Their grandfathers are arguing over who gets control of the family palace. Patrick and Beth witness the grand Egyptian burial, help Gilead and Sherah learn to get along better, and explore the city of Aramis with its ancient wonders and Egyptian customs. All the while Patrick and Beth are trying to figure out how to get back to Whit?s End. As they are leaving Egypt, they realize that the funeral they attended was for the biblical Joseph.

- Publisher
You May Also Be Interested In
About "Secret of the Prince's Tomb (#07 in Adventures In Odyssey Imagination Station Series)"
Cousins Patrick and Beth accidentally push the Imagination Station?s red button. They land in Egypt, where they befriend two children who are second cousins: a boy named Gilead and a girl named Sherah. The family is in turmoil because Gilead and Sherah?s great-grandfather has just died. Their grandfathers are arguing over who gets control of the family palace. Patrick and Beth witness the grand Egyptian burial, help Gilead and Sherah learn to get along better, and explore the city of Aramis with its ancient wonders and Egyptian customs. All the while Patrick and Beth are trying to figure out how to get back to Whit?s End. As they are leaving Egypt, they realize that the funeral they attended was for the biblical Joseph.
- Publisher


Meet the Authors
Marianne Hering
Marianne Hering, former editor of Focus on the Family Clubhouse magazine, has written hundreds of magazine articles, and numerous fiction books for children as well as the Tyndale published, Focus on the Family Clubhouse Activity Book. Currently, she is a freelance writer living in Colorado with her husband and three children.
Paul Mccusker
Paul McCusker is the creative content director for Focus on the Family. He has been a writer of fiction, nonfiction, and drama since 1979. His work includes over forty published novels, full-length plays, dramatic sketch collections, and song lyrics.
For the Adventures in Odyssey series alone, he has written over 200 half-hour radio episodes, eighteen novels, and two screenplays for the best-selling animated videos.
He has dramatized many classics for Focus on the Family Radio Theatre, including A Christmas Carol and Jan Karon's At Home in Mitford. He also wrote and directed the Peabody Award–winning Bonhoeffer: The Cost of Freedom and created the highly acclaimed Father Gilbert Mysteries series.
The novellas Epiphany and The Faded Flower, and more plus non-fiction, and co-authored You Say Tomato with best-selling British writer Adrian Plass. Epiphany was nominated for the ECPA Gold Medallion Award
Paul lives in Colorado Springs, Colorado, with his wife, Elizabeth, and their two children.
Other Titles In The "Adventures In Odyssey Imagination Station" Series View All