Secret Teachings of the Masonic Lodge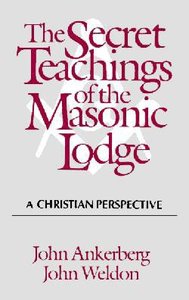 THE SECRET TEACHINGS OF THE MASONIC LODGEJohn Ankerberg and John WeldonDo the teachings of Freemasonry conflict with the Christian faith? IsFreemasonry a religion? This intriguing book examines thephilosophies, beliefs and rituals of Masonry and hold them up to thelight of Scripture. 333 pages, from Moody.John Ankerberg and John WeldonAn eye-opening look at the beliefs, rituals and teachings of the Masons. If you or someone you love is involved in Masonry, you need to know the Christian perspective. 333 pages, from Moody
You May Also Be Interested In
About "Secret Teachings of the Masonic Lodge"
THE SECRET TEACHINGS OF THE MASONIC LODGEJohn Ankerberg and John WeldonDo the teachings of Freemasonry conflict with the Christian faith? IsFreemasonry a religion? This intriguing book examines thephilosophies, beliefs and rituals of Masonry and hold them up to thelight of Scripture. 333 pages, from Moody.John Ankerberg and John WeldonAn eye-opening look at the beliefs, rituals and teachings of the Masons. If you or someone you love is involved in Masonry, you need to know the Christian perspective. 333 pages, from Moody
- Koorong

4 Parts/20 Chapters
- Publisher


Is Masonry nothing more than a harmless brotherhood, a club for men' Or is there more behind the camaraderie' This in-depth book probes the secret teachings and oaths, revealing how Masonry conflicts with the very foundations of Christianity.
- Publisher
Meet the Authors
John Ankerberg
Dr. John Ankerberg is host of the award-winning apologetics TV and radio program The John Ankerberg Show, which is broadcast in more than 185 countries. Founder and president of the Ankerberg Theological Research Institute, John has authored more than 60 books, including the bestselling Facts On Apologetics Series with over 1.5 million copies in print, and other substantial titles such as What's The Big Deal About Jesus?; The Da Vinci Code Controversy; and Defending Your Faith.
John Weldon
John Weldon (Ph.D., Pacific College of Graduate Studies; D.Min., Luther Rice Seminary) has authored or co-authored more than 80 books with emphasis in contemporary religious movements. With Dr. John Ankerberg, he has co-authored What Do Mormons Really Believe?, Fast Facts on Islam, the Facts On Series of apologetic booklets, and others.-
Koorong -Editorial Review.
Table Of Contents
part 1: The Masonic Lodge 1. Masonic Nature And Influence2. Masonic Religion3. Masonic World View4. Masonic Morality Part 2: Religious Secrets: Beliefs 5. The Plan Of Salvation6. The Rule Of Faith And Practice7. The Fatherhood Of God8. The Nature Of God9. The Name Of God10. Jesus Christ11. The Nature Of Man12. Hell Part 3: Religious Secrets: Practice 13. Blaspheming God's Name14. Swearing Oaths15. Uniting All Religions16. Influencing The Church Part 4: Mystical Secrets 17. The Occult18. Spiritism19. Mystery Religions20. Deception