Secrets to a Happy Life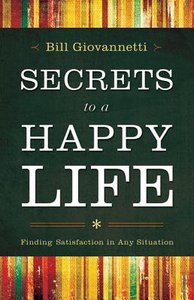 Inspiring Biblical Wisdom Helps Readers Overcome Dissatisfaction and Discontent

Deep, lasting satisfaction and contentment elude many people. In his accessible book, Giovannetti addresses this contemporary issue by guiding readers through the life of Joseph in the book of Genesis. He answers the question Is contentment possible? with a resounding yes. Biblical wisdom and practical advice will help the reader find contentment in God rather than circumstances.

The author teaches at Tozer Theological Seminary and Simpson University as well as pastoring a church of more than 2,500. His website Satisfied.com includes additional readers' resources, including a discussion guide and PowerPoint presentations.

- Publisher
You May Also Be Interested In
About "Secrets to a Happy Life"
Inspiring Biblical Wisdom Helps Readers Overcome Dissatisfaction and Discontent

Deep, lasting satisfaction and contentment elude many people. In his accessible book, Giovannetti addresses this contemporary issue by guiding readers through the life of Joseph in the book of Genesis. He answers the question Is contentment possible? with a resounding yes. Biblical wisdom and practical advice will help the reader find contentment in God rather than circumstances.

The author teaches at Tozer Theological Seminary and Simpson University as well as pastoring a church of more than 2,500. His website Satisfied.com includes additional readers' resources, including a discussion guide and PowerPoint presentations.
- Publisher


Meet the Author
Bill Giovannetti
Pastor of a large church in Northern California, Dr Bill Giovannetti has a doctorate from Fuller Seminary and has served on the faculty of Trinity International University, Deerfield. He contributes to publications from Walk Thru the Bible and Focus on the Family and is an experienced retreat and conference speaker.