Seeing the Supernatural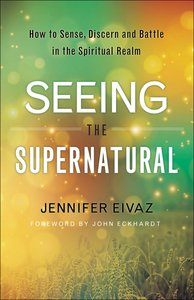 Foundational Teaching on Discerning What Is Happening in the Spiritual Realm

For many believers, operating in the gifts of the Spirit has become a normal way of life. Yet there is one often-overlooked, often-misunderstood gift crucial to the well-being of the church: the gift of discerning spirits.

This gift is the powerful supernatural ability to hear and see into the spiritual realm, yet many people who have it may think they are crazy. Finding no help from the church, some have turned to medical doctors and actually been diagnosed with a mental disorder. Jennifer Eivaz, a trusted prophetic voice, has been there, and she offers hope, healing, and practical help. Pulling back the veil, she
· lays a biblical foundation for how this gift works
· helps you discern what you are seeing and hearing
· reveals what is happening in the spiritual realm
· provides insight into the demonic, the angelic, and spiritual happenings
· and more.

The enemy is on the move. More than ever, the church needs people who operate in this powerful gift to expose hidden threats and help lead the church to victory.

- Publisher
You May Also Be Interested In
About "Seeing the Supernatural"
Foundational Teaching on Discerning What Is Happening in the Spiritual Realm

For many believers, operating in the gifts of the Spirit has become a normal way of life. Yet there is one often-overlooked, often-misunderstood gift crucial to the well-being of the church: the gift of discerning spirits.

This gift is the powerful supernatural ability to hear and see into the spiritual realm, yet many people who have it may think they are crazy. Finding no help from the church, some have turned to medical doctors and actually been diagnosed with a mental disorder. Jennifer Eivaz, a trusted prophetic voice, has been there, and she offers hope, healing, and practical help. Pulling back the veil, she
· lays a biblical foundation for how this gift works
· helps you discern what you are seeing and hearing
· reveals what is happening in the spiritual realm
· provides insight into the demonic, the angelic, and spiritual happenings
· and more.

The enemy is on the move. More than ever, the church needs people who operate in this powerful gift to expose hidden threats and help lead the church to victory.
- Publisher


Meet the Author
Jennifer Eivaz
Jennifer Eivaz is a minister and international conference speaker who presently serves as executive pastor at Harvest Christian Center. Her focus is raising up a passionate and effective prayer community that is tempered with love and hears the voice of God accurately. A graduate of Oral Roberts University, she lives with her husband, HCC senior pastor Ron Eivaz, in Turlock, California.