Seeing the Voice of God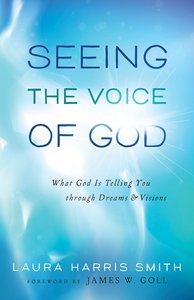 God is always speaking ... even when He doesn't use words.

We live in a post-verbal society that communicates through images--television, smartphones, the Internet--and our Creator longs to communicate with us visually if we'll live with our eyes wide open.

With absorbing insight, Seeing the Voice of God demystifies nighttime dreams and daytime visions, revealing the science behind the supernatural and giving you a biblical foundation for making sense of what you see. You'll also:

learn to discern if what you see is from God
study the ten most common types of dreams
discover spirit, mind, and medical tips for better dream recall
interpret dream symbols and imagery
review the best iPhone and Android sleep cycle apps

Includes a comprehensive Dream Symbols Dictionary with over 1,000 biblical definitions.

- Publisher
You May Also Be Interested In
About "Seeing the Voice of God"
God is always speaking ... even when He doesn't use words.

We live in a post-verbal society that communicates through images--television, smartphones, the Internet--and our Creator longs to communicate with us visually if we'll live with our eyes wide open.

With absorbing insight, Seeing the Voice of God demystifies nighttime dreams and daytime visions, revealing the science behind the supernatural and giving you a biblical foundation for making sense of what you see. You'll also:

learn to discern if what you see is from God
study the ten most common types of dreams
discover spirit, mind, and medical tips for better dream recall
interpret dream symbols and imagery
review the best iPhone and Android sleep cycle apps

Includes a comprehensive Dream Symbols Dictionary with over 1,000 biblical definitions.
- Publisher


Meet the Author
Laura Harris Smith
Laura Harris Smith founded Eastgate Creative Christian Fellowship with her husband, Pastor Chris Smith, and directs the Creative Arts Conservatory. An actress, playwright, poet, and media dynamo, she was TV host on the Shop at Home Network for many years. This is her first book. She and her husband have six children and live in Hermitage, Tennessee.