Seeking Aliveness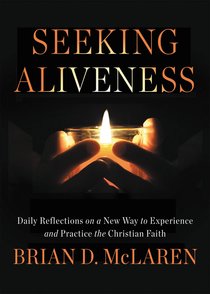 "The quest for aliveness is the heartbeat that pulses through the Bible ... It's why we gather, celebrate, eat, abstain, attend, practice, sing, and contemplate."

Based on his book We Make The Road By Walking, Brian D. McLaren presents a 52-week devotional to inspire and activate you in your spiritual journey. If you're a seeker exploring Christianity, if you're a long-term believer feeling downtrodden, if your faith seems to be a lot of talk without much practice, here you'll find a reorientation from a fresh and healthy perspective.

Brian D. McLaren shows everything you need to explore what a difference an honest, living, growing faith can make in your life and in our world today. Through 52 weeks of thoughtful readings, SEEKING ALIVENESS gives an overview of the message of the whole Bible and guides you through a rich study of interactive learning and personal growth.

- Publisher
You May Also Be Interested In
About "Seeking Aliveness"
"The quest for aliveness is the heartbeat that pulses through the Bible ... It's why we gather, celebrate, eat, abstain, attend, practice, sing, and contemplate."

Based on his book We Make The Road By Walking, Brian D. McLaren presents a 52-week devotional to inspire and activate you in your spiritual journey. If you're a seeker exploring Christianity, if you're a long-term believer feeling downtrodden, if your faith seems to be a lot of talk without much practice, here you'll find a reorientation from a fresh and healthy perspective.

Brian D. McLaren shows everything you need to explore what a difference an honest, living, growing faith can make in your life and in our world today. Through 52 weeks of thoughtful readings, SEEKING ALIVENESS gives an overview of the message of the whole Bible and guides you through a rich study of interactive learning and personal growth.
- Publisher


Meet the Author
Brian Mclaren
Brian D. McLaren (MA, University of Maryland) is founding pastor of Cedar Ridge Community Church, an innovative, nondenominational church in the Baltimore-Washington region. He's also a senior fellow with emergent village(www.emergentvillage.org), a growing generative friendship of missional Christian leaders.
He is the author of three best selling books on Emergent beliefs written in the form of fiction The Last Word and the Word after That; A New Kind of Christian: A Tale of Two Friends on a Spiritual Journey and The Story We Find Ourselves In: Further Adventures of a New Kind of Christian.
Two books on Finding Faith, A Search for what is Real and A Search for What makes Sense
Three books on Emergent evangelism and culture, More Ready than you Realise; The Church on the other side: Doing ministry in the Postmodern matrix, and A Is for Abductive: The Language of the Emerging Church
Three books on Kingdom beliefs, A Generous Orthodoxy, The Secret Message of Jesus, and Everything must change: Jesus, Global Crisis and a Revolution of Hope. and a book on Emergent Spirituality Finding Our Way Again: The Return of the Ancient Practices .