Seeking Allah, Finding Jesus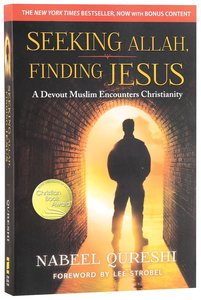 Former devout Muslim Nabeel Qureshi relates his dramatic journey to Christianity. Throughout his story, Qureshi provides a compassionate yet powerful apologetic for Christianity, highlighting its emphasis on relationships and love. Includes appendix with helps for apologetics.
About "Seeking Allah, Finding Jesus"
Former devout Muslim Nabeel Qureshi relates his dramatic journey to Christianity. Throughout his story, Qureshi provides a compassionate yet powerful apologetic for Christianity, highlighting its emphasis on relationships and love. Includes appendix with helps for apologetics.
- Koorong

:
In Seeking Allah, Finding Jesus, now expanded with bonus content, Nabeel Qureshi describes his dramatic journey from Islam to Christianity, complete with friendships, investigations, and supernatural dreams along the way.
Providing an intimate window into a loving Muslim home, Qureshi shares how he developed a passion for Islam before discovering, almost against his will, evidence that Jesus rose from the dead and claimed to be God. Unable to deny the arguments but not wanting to deny his family, Qureshi struggled with an inner turmoil that will challenge Christians, Muslims, and all those who are interested in the world's greatest religions.
Engaging and thought-provoking, Seeking Allah, Finding Jesus tells a powerful story of the clash between Islam and Christianity in one man's heart?and of the peace he eventually found in Jesus.
"I have seldom seen such genuine intellect combined with passion to match ... truly a 'must-read' book."-Ravi Zacharias
- Publisher
Meet the Authors
Nabeel Qureshi
Nabeel Qureshi is a speaker for Ravi Zacharias International Ministries. He holds a doctorate from Eastern Virginia Medical School, a Masters in Christian Apologetics from Biola University, and a Masters in Religion from Duke University.
Lee Strobel (Fwd)
Atheist-turned-Christian, Lee Strobel is the former award-winning legal affairs editor of The Chicago Tribune. He holds a Master of Studies in Law degree, as well as a journalism degree and was a professional journalist for 14 years, winning Illinois' top honours for investigative reporting and public service journalism from United Press International.

In 1981, after a two-year investigation of the evidence for Jesus, Lee received Christ as his Saviour, and subsequently became a teaching pastor at two of America's largest churches - Willow Creek Community Church, Chicago in 1987 and Saddleback Valley Community Church, California in 2000. In 2002 he left Saddleback's staff to focus on writing.

A New York Times best-selling author of nearly 20 books, he has been described by the Washington Post as "one of the evangelical community's most popular apologists." His journey from atheism to faith has been documented in the Gold Medallion-winning books The Case for Christ, Inside the Mind of Unchurched Harry and Mary and The Case for Faith.

His other best-sellers include Surviving a Spiritual Mismatch in Marriage, which he co-authored with his wife, Leslie; God's Outrageous Claims and What Jesus Would Say? Lee also shared the prestigious ECPA Jordon Christian Book of the Year award in 2005 for a curriculum he co-authored about the movie The Passion of the Christ.

Lee is also co-author of the Becoming a Contagious Christian training curriculum, which is used around the world. And his articles have been published in a variety of magazines, including Discipleship Journal, Marriage Partnership, The Christian Research Journal, Guideposts, and Decision. He is also a contributing editor and columnist for Outreach on-line magazine.

Lee and Leslie have been married for 33 years and live in Southern California. They have a daughter, Alison, and son Kyle who is married to Kellie, both Alison and Kyle are writers.
- Koorong

Customer Reviews For "Seeking Allah, Finding Jesus"
Write Your Own Review
Informing
By Christian Reviewer,

Apr 25 2017
This book informed me greatly on the struggles that Muslims have when leaving their faith and about life as a Muslim. When I first started reading it I was a little skeptical because it seemed to glorify Islam. However, I later read that was how Nabeel actually viewed and enjoyed his younger years. Throughout the book, Nabeel engages with his best friend David Wood in discussing Christianity. On a side note, the book encourages the readers to view David's testimony and apologetic channel on YouTube. Having now seen some of those videos, Nabeel would have had a very interesting time discussing his faith with David. I strongly recommend this book. 
---
Useful
By Julie,

Apr 12 2017
Seeking Allah, Finding Jesus by Nabeel Qureshi is a very useful book in terms of getting to the heart of Muslim thinking. Discovering that Muslims use 'authority' as the basis for what they believe was very helpful to me. By this Qureshi means that respected teachers (Imams, parents and scholars) interpret the Quran and pass on their knowledge to Muslim believers, which is accepted as truth. Qureshi was challenged by a friend to check things out for himself by applying the historical and other typical 'Western' methods of analysis to Muslim writings. Over a long period of time, Qureshi, a doctor, became a Christian as a result of doing this, despite great personal cost to him and his loving and sincere Muslim family. I am reminded that God uses any and every means to draw people to himself, including intellectual pathways. A useful tool for some chapters are suggestions for further readings on the chapter topics. I highly recommend this book to anyone who is friendly with a person of Muslim belief. 
---
Very Informative Read!
By M. C. Shannon,

Feb 02 2017
I absolutely loved this book. I picked up this book on a recommendation from a friend and I found myself deeply engaged with the moving story that Qureshi shares. I even learned a lot about the Islamic faith along the way. I wanted the story to keep going when I had finished. I would definitely recommend this book to anyone looking to share Jesus with someone from a muslim background, or someone who is just interested in understanding Islam a bit better.
---
A must read book
By jin pian,

Jan 30 2017
Seeking Allah, finding Jesus by Nabeel Qureshi
This is an intriguing book in which the author Nabeel brought up to be a devout Muslim sought to defend his faith. His friendship with a Christian, David led to him investigating more into the truth about Jesus. When he finally got to read the Gospel of John and Mark he found the answer that Jesus was truly divine. But his loyalty to his Islamic faith made him refuse to accept it bringing a tension between him and David. He believed that the apostle Paul was a liar and had turned Jesus into God and that the Trinity amounted to polytheism. Then during a study of electrons and molecules, the truth of the Trinity hit him. 
Finally after researching he found out that what he was taught about Mohammed and the Quran was false, he submitted to Jesus. Upon confessing him as Lord, he felt the pain of the cross when it led to his conflict with his beloved parents. It's a book written with intensity of thought and emotion. It's a must read for anyone who seeks to know the true God and those who want to make Him known. 

---
A must for everyone.
By Gina,

Jan 06 2017
I found this book to be riveting, it explained so many questions I had about Islam. I felt connected to Nabeel in his search to worship the true God. It is compelling reading especially for those who want to spread the gospel to our Islamic neighbours. I loved how David and Nabeel forged a friendship despite their different faiths, and how both were committed to knowing the truth. It just shows, that we should not form opinions of our neighbours because of what they wear, or the colour of their skin or what they believe, for here in this story shows that all men are made in the image of God. And by continuing to examine truth, then truth will find you and it will indeed set you free!


{{review.title}}
By {{review.author.name}},

{{review.reviewCreatedDate | date:'MMM dd yyyy'}}

{{reviewdescription}}
{{review.text}}
---