Seeking Allah, Finding Jesus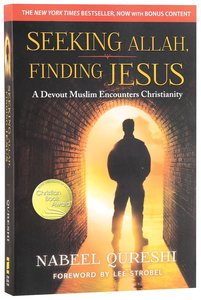 $19.99
$15.99
You Save: $4.00 (20%)
Paperback
From the best-selling author of Shoot Me First: 24 Years In The Hotspots OF Pakistan And Afghanistan.

Former devout Muslim Nabeel Qureshi relates his dramatic journey to Christianity. Throughout his story, Qureshi provides a compassionate yet powerful apologetic for Christianity, highlighting its emphasis on relationships and love. Includes appendix with helps for apologetics.
About "Seeking Allah, Finding Jesus"
From the best-selling author of Shoot Me First: 24 Years In The Hotspots OF Pakistan And Afghanistan.

Former devout Muslim Nabeel Qureshi relates his dramatic journey to Christianity. Throughout his story, Qureshi provides a compassionate yet powerful apologetic for Christianity, highlighting its emphasis on relationships and love. Includes appendix with helps for apologetics.
- Koorong

:
In Seeking Allah, Finding Jesus, now expanded with bonus content, Nabeel Qureshi describes his dramatic journey from Islam to Christianity, complete with friendships, investigations, and supernatural dreams along the way.
Providing an intimate window into a loving Muslim home, Qureshi shares how he developed a passion for Islam before discovering, almost against his will, evidence that Jesus rose from the dead and claimed to be God. Unable to deny the arguments but not wanting to deny his family, Qureshi struggled with an inner turmoil that will challenge Christians, Muslims, and all those who are interested in the world's greatest religions.
Engaging and thought-provoking, Seeking Allah, Finding Jesus tells a powerful story of the clash between Islam and Christianity in one man's heart?and of the peace he eventually found in Jesus.
"I have seldom seen such genuine intellect combined with passion to match ... truly a 'must-read' book."-Ravi Zacharias
- Publisher
Meet the Authors
Nabeel Qureshi
Nabeel Qureshi is a speaker for Ravi Zacharias International Ministries. He holds a doctorate from Eastern Virginia Medical School, a Masters in Christian Apologetics from Biola University, and a Masters in Religion from Duke University.
Lee Strobel (Fwd)
Lee Strobel, who holds a Master of Studies in Law degree, as well as a journalism degree, is the former legal affairs editor of the Chicago Tribune. His awards include Illinois' highest honours for both investigative reporting and public service journalism from the United Press International. His journey from atheism to faith has been documented in the Gold Medallion-winning books The Case for Christ and The Case for Faith. His other best-sellers include Inside the Mind of Unchurched Harry and Mary, which also won a Gold Medallion; Surviving a Spiritual Mismatch in Marriage, which he co-authored with his wife, Leslie; God's Outrageous Claims; and What Jesus Would Say? Lee has been a teaching pastor at two of America's largest churches: Willow Creek Community Church in Chicago and Saddleback Valley Community Church in Orange County, California. He is a contributing editor and columnist for Outreach magazine and formerly taught First Amendment Law at Roosevelt University. Lee and Leslie reside in Southern California.
Table Of Contents
:foreword By Lee Strobel (revised)introduction (revised)prologue: Seeking Allahpart 1: Called To Prayer1.prayers Of My Fathers2.a Mother?s Faith3.a Community Of Four4.the Perfect Book5.stories Of The Prophet6.righteous Through Ritual Prayer7.diversity In Islam8.the Path Of Sharia9.dreams Of The Faithful10.the Month Of Blessingpart 2. An Ambassador For Islam11.third Culture12.muslims In The West13.swoons And Substitutions14.the Father Is Greater Than Jesus15.heaven?s Gates And Hell?s Flames16.treasured Traditions17.signs In The Sky18.honor And Authority19.the Religion Of Peacepart 3. Testing The New Testament20.becoming Brothers21.opening My Eyes22.textual Evolution23.revisiting Reliabilitypart 4: Coming To The Crux24.litmus Tests25.crucifying The Swoon Theory26.a Muslim At Church27.debating The Resurrectionpart 5. Jesus: Mortal Messiah Or Divine Son Of God?28.genetics And Jesus29.jesus Creates Carpenters30.the Divine Son Of Man31.paulemics And The Earliest Jesuspart 6. The Case For The Gospel32.tension And The Trinity33.resonating With The Trinity34.salvation In The Balance35.assessing The Gospelpart 7. The Truth About Muhammed36.muhammad Revisited37.the Picture-perfect Prophet38.veiling The Violence39.muhammad Rasul Allah?part 8. The Holiness Of The Quran40.the Case For The Quran41.the Quran, Science, And Bucailleism42.hadith And The History Of The Quran43.those Whom Their Right Hands Possesspart 9. Faith In Doubt44.rationality And Revelation45.the Cost Of Embracing The Cross46.i Am Near, Seek And You Shall Find47.a Field Of Crossespart 10. Guided By The Hand Of God48.deciphering Dreams49.the Narrow Door50.a Stairway Out Of A Mosque51.time To Mourn52.the Word Speaks53.finding Jesusepilogue (extended)appendix: Expert Contributions (new To Print Edition)*growing Up Muslim In America*east Meets West*the New Testament*defining Moments*the Deity Of Jesus Christ*the Trinity And The Gospel*the Historical Muhammad*the New Testament And The Quran*belief And Doubt*dreams And Visionsnotesglossarypreview Chapter From Nabeel Qureshi?s New Book, No God But One (new)
Customer Reviews For "Seeking Allah, Finding Jesus"
Write Your Own Review
A must read book
By jin pian,

Jan 30 2017
Seeking Allah, finding Jesus by Nabeel Qureshi
This is an intriguing book in which the author Nabeel brought up to be a devout Muslim sought to defend his faith. His friendship with a Christian, David led to him investigating more into the truth about Jesus. When he finally got to read the Gospel of John and Mark he found the answer that Jesus was truly divine. But his loyalty to his Islamic faith made him refuse to accept it bringing a tension between him and David. He believed that the apostle Paul was a liar and had turned Jesus into God and that the Trinity amounted to polytheism. Then during a study of electrons and molecules, the truth of the Trinity hit him. 
Finally after researching he found out that what he was taught about Mohammed and the Quran was false, he submitted to Jesus. Upon confessing him as Lord, he felt the pain of the cross when it led to his conflict with his beloved parents. It's a book written with intensity of thought and emotion. It's a must read for anyone who seeks to know the true God and those who want to make Him known. 

---
A must for everyone.
By Gina,

Jan 06 2017
I found this book to be riveting, it explained so many questions I had about Islam. I felt connected to Nabeel in his search to worship the true God. It is compelling reading especially for those who want to spread the gospel to our Islamic neighbours. I loved how David and Nabeel forged a friendship despite their different faiths, and how both were committed to knowing the truth. It just shows, that we should not form opinions of our neighbours because of what they wear, or the colour of their skin or what they believe, for here in this story shows that all men are made in the image of God. And by continuing to examine truth, then truth will find you and it will indeed set you free!


---
Essential Reading
By Esther,

Jan 06 2017
I have a little or no understanding of the Muslim religion and came across this book while I was wondering if Allah might be the same God as we Christians worship. So I bought this book to have a better understanding of who this Allah is and how Nabeel came to find out Jesus. 

This book gives me a new perspective and a better understanding of what Muslim religion is all about. It helps me to see them as a passionate God seeking people who just need God's revelation of the one true God! And indeed this book taught me that Allah is not Jehovah.

Must read for everyone who wanna have a better understanding of the Muslim religion and find out how God reached out to a Muslim boy who is really seeking the Truth and the Life
---
Compelling Raw
By Ryan Kerrison,

Dec 13 2016
Qureshi is in his finest in the text - The perfect balance of openness, reader engagement, theological precision and profound insight. Qureshi demonstrates a beautiful testimony, doing justice to the apologetic of the Christian faith he has found - without neglecting the significance of renouncing the Islamic worldview. A must read for any individuals looking to evangelise to members of the Islamic faith. 
---
Essential reading
By Nicole,

Dec 11 2016
Nabeel Qureshi provides a unqique insight into life in a strict religious Muslim household and shares the struggle of his conversion to Christ. This foundation helps Christians to understand what Muslims risk when they leave Islam and highlights the importance of relationship in winning Muslims to Christ. An excellent read for anyone wishing to understand Muslims.
{{review.title}}
By {{review.author.name}},

{{review.reviewCreatedDate | date:'MMM dd yyyy'}}

{{reviewdescription}}
{{review.text}}
---