Seeking Allah, Finding Jesus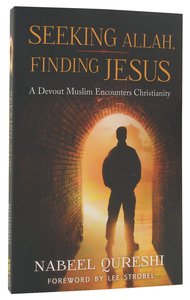 Evangelical Christian Publishers Association (ECPA) 2015 Christian Book Award Winner in in two categories: New Author and Non-Fiction.
You May Also Be Interested In
About "Seeking Allah, Finding Jesus"
Evangelical Christian Publishers Association (ECPA) 2015 Christian Book Award Winner in in two categories: New Author and Non-Fiction.
- Koorong

In Seeking Allah, Finding Jesus, former devout Muslim Nabeel Qureshi describes his dramatic journey from Islam to Christianity, complete with the friendships, investigations, and dreams and visions he encountered along the way. Many Westerners are confused about Islam, somewhat fearful of Muslims, or simply uninformed about the relationship between the Islamic and Christian faiths. In turn, many Muslims are hindered by cultural, intellectual, and theological barriers from understanding, or even rightly hearing, the gospel of Jesus Christ. Throughout his story Qureshi provides a compassionate yet powerful apologetic for Christianity over Islam, with an emphasis on relationships and love. Appendices by popular scholars and experts provide further information for Muslims to consider and for Christians to reference in spiritual discussions with Muslim friends. Engaging as a story and useful as an apologetic resource, Seeking Allah, Finding Jesus introduces readers to a powerful story of the clash between Islam and Christianity in one man's heart and of the peace he eventually found in Jesus.
- Publisher


Meet the Author
Nabeel Qureshi
The late Nabeel Qureshi was a speaker for Ravi Zacharias International Ministries. He held a doctorate from Eastern Virginia Medical School, a Masters in Christian Apologetics from Biola University, and a Masters in Religion from Duke University. He passed away of cancer in September 2017.
Table Of Contents
Foreword By Lee Strobel

Introduction

Chapter 1: Internal Conflict

Part 1: Growing Up Muslim In America

Chapter 2: Born Into Islam

Chapter 3: Teenage Da'wah

Part 2: Challenging Christianity

Chapter 4: Testing The New Testament

Chapter 5: Who's Jesus? Whose Jesus?

Chapter 6: The Cross: A Pivotal Point

Chapter 7: Theological Contention

Part 3: Investigating Islam

Chapter 8: Muhammah: Prophet Or Pretender?

Chapter 9: Qur'an: Furgan Or Forgery?

Part 4: Spiritual Guideance

Chapter 10: Turning To God

Chapter 11: God's Call

Chapter 12: The Word Comes Alive

Afterword
Customer Reviews For "Seeking Allah, Finding Jesus"
Write Your Own Review
A Must Read
By Gayle,

Dec 28 2015
This wonderful book is the account of one man's struggle to accept Jesus as his Savior, after hearing all his life that Jesus was just a prophet, and Allah was the one true God.
This true story highlights the need for Christians to be well equipped to answer questions about why we believe what we believe. And the all important need to always speak the truth in love - being a loyal and loving friend to non-believers before trying to witness to them.
I will definitely read this book again and again - So much to learn!
---
A Great Mix of Autobiography and Apologetics
By Joshua,

Oct 20 2015
One of the most compelling reads I have had in this genre. Not only is it a well written autobiography but also an excellent exploration of Christian and Islamic apologetics from both perspectives. His conversion story is an incredible testament to the Christian witness through friendship, love is the key and arguments come a distant second. I highly recommend this book to anyone who is looking to understand how Christianity's ideas confront Islam in the context of relationship. 
---
A great read
By Daniel,

Oct 07 2015
Seeking Allah, finding Jesus is a wonderful book about a devout Muslim man who grows up in a devout Muslim family, who ends up coming to Christ. 

The first few chapters start off with nabeel in his youth learning about Islam and growing up in the Muslim faith. The life changing moment is when he meets a guy called David who eventually has apologetic debates over a long period of time which finally takes its toll on nabeel's faith. He realises there is no truth with Islam and that there are many problems with it (especially the historical Muhammad). He ends up having dreams from God and eventually pulling away from the religion that he loved. It's a heart felt book full of struggles and real life experiences. 
The final part in the book when he told his family about his decision to follow jesus was moving and you could almost sense the emotions as you read it. A wonderful book full of in-depth theological issues and especially a great book to have to not only understand the theology of Islam, but also the culture and the stronghold that it has on their lives. 
Must read!
{{review.title}}
By {{review.author.name}},

{{review.reviewCreatedDate | date:'MMM dd yyyy'}}

{{reviewdescription}}
{{review.text}}
---