Selections From Love to Stay Book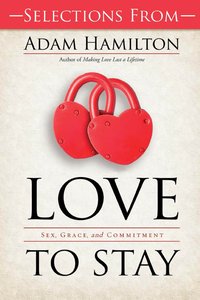 Take an advance sneak peek with Adam Hamilton as he looks at what it takes to create and sustain healthy, meaningful romantic relationships across the course of a lifetime. Falling in love is easy, but staying in love takes courage, hard work, and lots of grace. Read excerpts from each chapter as Hamilton explores how, with God's help, we can make love last. Love to Stay draws upon a survey of thousands of couples and singles, interviews with relationship and marriage therapists, the latest research in the field, and wisdom from the Bible.

- Publisher
You May Also Be Interested In
About "Selections From Love to Stay Book"
Take an advance sneak peek with Adam Hamilton as he looks at what it takes to create and sustain healthy, meaningful romantic relationships across the course of a lifetime. Falling in love is easy, but staying in love takes courage, hard work, and lots of grace. Read excerpts from each chapter as Hamilton explores how, with God's help, we can make love last. Love to Stay draws upon a survey of thousands of couples and singles, interviews with relationship and marriage therapists, the latest research in the field, and wisdom from the Bible.
- Publisher


Meet the Author
Adam Hamilton
Adam Hamilton is pastor of the United Methodist Church of the Resurrection in Leawood, Kansas, one of the fastest growing, most highly visible churches in the country. The Church Report named Hamilton's congregation the most influential mainline church in the country, and PBS's Religion and Ethics Newsweekly identified him as one of the top "Ten People to Watch." Hamilton is the author of Confronting the Controversies, Making Love Last a Lifetime, Unleashing the Word, Leading Beyond the Walls, Selling Swimsuits in the Arctic, and Christianity and World Religions, all by Abingdon Press.