Self Incrimination (Leslie Connors Collection Series)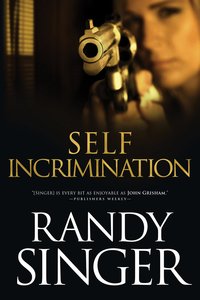 Tara Bannister's abusive stepfather finally pushed her too far. To save herself she had to kill him. Or did she? Tara's confession doesn't add up, and as her self-defense claim crumbles, attorney Leslie Connors must overcome more than first-trial jitters to mount a credible defense. Leslie must save Tara's life-against her client's will. In the midst of this taxing case, Leslie's wedding plans to law partner Brad Carson are interrupted by a devastating diagnosis. Does she dare tell Brad? Before the final gavel falls, Leslie must confront the truth about herself and her mysterious client, or the darkness of the past will swallow them both.

- Publisher
You May Also Be Interested In
About "Self Incrimination (Leslie Connors Collection Series)"
Tara Bannister's abusive stepfather finally pushed her too far. To save herself she had to kill him. Or did she? Tara's confession doesn't add up, and as her self-defense claim crumbles, attorney Leslie Connors must overcome more than first-trial jitters to mount a credible defense. Leslie must save Tara's life-against her client's will. In the midst of this taxing case, Leslie's wedding plans to law partner Brad Carson are interrupted by a devastating diagnosis. Does she dare tell Brad? Before the final gavel falls, Leslie must confront the truth about herself and her mysterious client, or the darkness of the past will swallow them both.
- Publisher


Meet the Author
Randy Singer
Randy Singer serves as general counsel for the North American Misson Board and on the Board of Legal Advisors for the American Center of Law and Justice, a public service law firm that defends religious freedom in the United States and abroad. He is the author of Directed Verdict.
Other Titles In The "Leslie Connors Collection" Series