Sensible Shoes - a Story About the Spiritual Journey (#01 in Sensible Shoes Series)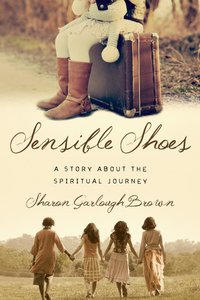 A 2013 Midwest Publishing Awards Show Honorable MentionSharon Garlough Brown tells the moving story of four strangers as they embark together on a journey of spiritual formation:Hannah, a pastor who doesn't realize how exhausted she is.Meg, a widow and recent empty-nester who is haunted by her past.Mara, a woman who has experienced a lifetime of rejection and is now trying to navigate a difficult marriage.Charissa, a hard-working graduate student who wants to get things right.You're invited to join these four women as they reluctantly arrive at a retreat center and find themselves drawn out of their separate stories of isolation and struggle and into a collective journey of spiritual practice, mutual support and personal revelation. Along the way, readers will be taken into a new understanding of key spiritual practices and find tangible support for the deeper life with God.If you want to travel this journey with others, you will find a group study guide and book club resources at sensibleshoesclub.com.

- Publisher
You May Also Be Interested In
About "Sensible Shoes - a Story About the Spiritual Journey (#01 in Sensible Shoes Series)"
A 2013 Midwest Publishing Awards Show Honorable MentionSharon Garlough Brown tells the moving story of four strangers as they embark together on a journey of spiritual formation:Hannah, a pastor who doesn't realize how exhausted she is.Meg, a widow and recent empty-nester who is haunted by her past.Mara, a woman who has experienced a lifetime of rejection and is now trying to navigate a difficult marriage.Charissa, a hard-working graduate student who wants to get things right.You're invited to join these four women as they reluctantly arrive at a retreat center and find themselves drawn out of their separate stories of isolation and struggle and into a collective journey of spiritual practice, mutual support and personal revelation. Along the way, readers will be taken into a new understanding of key spiritual practices and find tangible support for the deeper life with God.If you want to travel this journey with others, you will find a group study guide and book club resources at sensibleshoesclub.com.
- Publisher


Meet the Author
Sharon Garlough Brown
Sharon Garlough Brown is a spiritual director and cofounder of Abiding Way Ministries, providing spiritual formation retreats and resources. Her book Sensible Shoes was named one of television personality Kathie Lee Gifford's "favorite things" in March 2013. Sharon earned an MDiv from Princeton Theological Seminary. She and her husband, Jack, have served congregations in Scotland, Oklahoma, England, and West Michigan.
Table Of Contents
A 2013 midwest Publishing Awards Show Honorable Mentionsharon Garlough Brown Tells The Moving Story Of Four Strangers As They Embark Together On A Journey Of Spiritual Formation:hannah, A Pastor Who Doesn't Realize How Exhausted She Is.meg, A Widow And Recent Empty-nester Who Is Haunted By Her Past.mara, A Woman Who Has Experienced A Lifetime Of Rejection And Is Now Trying To Navigate A Difficult Marriage.charissa, A Hard-working Graduate Student Who Wants To Get Things Right.you're Invited To Join These Four Women As They Reluctantly Arrive At A Retreat Center And Find Themselves Drawn Out Of Their Separate Stories Of Isolation And Struggle And Into A Collective Journey Of Spiritual Practice, Mutual Support And Personal Revelation. Along The Way, Readers Will Be Taken Into A New Understanding Of Key Spiritual Practices And Find Tangible Support For The Deeper Life With God.if You Want To Travel This Journey With Others, You Will Find A Group Study Guide And Book Club Resources At Sensibleshoesclub.com.

2. The Pilgrimage Begins

3. Exploring The Heart Of God

4. Learning To Linger

5. Come And See

6. Hiding And Seeking

7. Walking Attentively

8. Intimacy And Encounter

9. Found At The Crossroads

10. Deeper Into The Wilderness

11. Lightening The Load

12. Walking Together In The Love Of God

Epilogue
Customer Reviews For "Sensible Shoes - a Story About the Spiritual Journey (#01 in Sensible Shoes Series)"
Write Your Own Review
Firm Favorite!!!
By Karen,

Jan 20 2018
This book is superb! The four characters are easy to relate to with the difficult but varied journeys they are going on. Most people would find some challenge they could relate to. The women all meet up at a retreat and I found the study tools that they were given were fantastic to use in deepening my own spiritual journey. How inspiring to learn about things such as"lectio divina" (sacred reading) and "praying the examen" as the characters did. I now use these "tools" too and am grateful for the introduction to them. The story is wonderfully engaging and I was disappointed to get to the end of the book. This first book is complete in itself but I was thrilled to learn recently that there are more books in the series!  
---
Spiritually Encouraging
By AmandaRose,

Nov 23 2015
I loved this book, and have lent it to many a friend. Not only are the characters relatable, and the stories engaging, but the relational side of this book is inspiring. The "seminars" that the ladies attend gave me principles to take into my own journey with God, and encouraged me to go deeper, to look at scripture in a new light. I didn't read it like a regular novel, I read about a chapter a week, in the mean time, reflecting on the lessons each character was learning. It was almost like a devotional. I can't wait to read the sequel! 
---
A spiritual Journey - Essential reading
By Jess,

Nov 23 2015
I have read this book early this year, but all the stories are still in my head! When I was reading this book, I felt like I have been a spiritual journey with these four ladies, who came from different background and encountered God in different way, but the common thing is they found who they are in Jesus Christ, they found true freedom in Jesus Christ.

This book is good for spiritual journey and also suitable as connect group study material. 
{{review.title}}
By {{review.author.name}},

{{review.reviewCreatedDate | date:'MMM dd yyyy'}}

{{reviewdescription}}
{{review.text}}
---
Other Titles In The "Sensible Shoes" Series View All
$17.76

Nett


Available for immediate download.

$15.99




Pre-Order now to secure your copy. Expected to ship May 2019.

$15.99




Pre-Order now to secure your copy. Expected to ship May 2019.

$22.99




Available Now. 50+ Available

Formats