Serendipity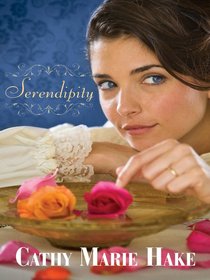 Todd Valmer should have known better. A farmer who's been through several disasters, he travels to Virginia to fetch his widowed mother to cook and help him around his Texas farm...or that was the plan until she keels over on the train and they get kicked off. Maggie Rose barters for a living and also makes soaps, lotions, and perfumes with a special rose recipe passed down from mother to daughter for generations. She hasn't wanted to marry...until that handsome Texan shows up. Her heart skips a beat, and when he proposes, a hasty marriage follows.

What ensues, however, is a clash of culture and a battle of wills--and it's clear they both mistook instant attraction and infatuation for love. As their marriage loses its sparkle and fills with disillusionment, Todd and Maggie must determine what is worth fighting for. He dreams of a farm. Maggie wants to fulfill the family tradition with her rose perfumes. Todd's mother, however, has entirely different plans for her son that do not include Maggie. In light of their hasty marriage and mistaken dreams, is there any hope of recapturing their love and building a future together?

- Publisher
You May Also Be Interested In
About "Serendipity"
Todd Valmer should have known better. A farmer who's been through several disasters, he travels to Virginia to fetch his widowed mother to cook and help him around his Texas farm...or that was the plan until she keels over on the train and they get kicked off. Maggie Rose barters for a living and also makes soaps, lotions, and perfumes with a special rose recipe passed down from mother to daughter for generations. She hasn't wanted to marry...until that handsome Texan shows up. Her heart skips a beat, and when he proposes, a hasty marriage follows.

What ensues, however, is a clash of culture and a battle of wills--and it's clear they both mistook instant attraction and infatuation for love. As their marriage loses its sparkle and fills with disillusionment, Todd and Maggie must determine what is worth fighting for. He dreams of a farm. Maggie wants to fulfill the family tradition with her rose perfumes. Todd's mother, however, has entirely different plans for her son that do not include Maggie. In light of their hasty marriage and mistaken dreams, is there any hope of recapturing their love and building a future together?
- Publisher


Meet the Author
Cathy Marie Hake
Cathy Marie Hake is a registered nurse who worked for many years in an oncology unit before shifting her focus to perinatal care. The author of over twenty novels including Serendipity;That Certain Spark; Whirlwind; and Forevermore, she lives with her husband and two children in Anaheim, California. Visit Cathy's Web site at www.cathymariehake.com.