Serving as a Church Greeter (Zondervan Practical Ministry Guide Series)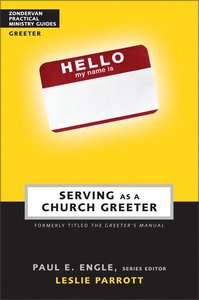 For* * Individual use * Group training Greeters are the welcoming arms that people long to find in a church. This practical guidebook will help you reach out to people who need to experience the warmth of belonging to a church family.;Serving as a Church Greeter sheds light on * The Ministry of Church Greeters * The Need for Warmhearted Greeters * Developing a User-Friendly Foyer * A Better Way of Doing Things * The Parking Lot Ministry Zondervan Practical Ministry Guides provide you with simple, practical insights for serving in today's churches. Written by experienced pastors and church workers, these easy-to-read, to-the-point booklets address the fundamentals of different ministries as practiced effectively in real life. You'll find biblical insight and wise, field-tested advice you can apply today, as well as discussion questions to help you think through and integrate what you read.

- Publisher This new edition of The Greeter's Manual deals with those who are often the first people one encounters at church--the greeters (not the pastor or a musician or even an usher). Here are the whys and wherefores of effective greeters, whether a church is large or small.

- Publisher
You May Also Be Interested In
About "Serving as a Church Greeter (Zondervan Practical Ministry Guide Series)"
For* * Individual use * Group training Greeters are the welcoming arms that people long to find in a church. This practical guidebook will help you reach out to people who need to experience the warmth of belonging to a church family.;Serving as a Church Greeter sheds light on * The Ministry of Church Greeters * The Need for Warmhearted Greeters * Developing a User-Friendly Foyer * A Better Way of Doing Things * The Parking Lot Ministry Zondervan Practical Ministry Guides provide you with simple, practical insights for serving in today's churches. Written by experienced pastors and church workers, these easy-to-read, to-the-point booklets address the fundamentals of different ministries as practiced effectively in real life. You'll find biblical insight and wise, field-tested advice you can apply today, as well as discussion questions to help you think through and integrate what you read.
- Publisher

This new edition of The Greeter's Manual deals with those who are often the first people one encounters at church--the greeters (not the pastor or a musician or even an usher). Here are the whys and wherefores of effective greeters, whether a church is large or small.
- Publisher


Meet the Authors
Leslie Parrott
Dr. Leslie Parrott is a marriage and family therapist and codirector with her husband, Dr. Les Parrott, of the Center for Relationship Development at Seattle Pacific University. She is the author of God Made You Nose to Toes and The First Drop of Rain, and co-author with her husband of several bestselling books, including The Complete Guide to Marriage Mentoring, Relationships, Love Talk, and the Gold Medallion Award-winner, Saving Your Marriage before It Starts. Leslie is a columnist for Today's Christian Woman and has been featured on Oprah, CBS Morning, CNN, and The View, and in USA Today and the New York Times. www.RealRelationships.com
Koorong -Editorial Review.
Paul Engle (Ed)
Paul E. Engle, series editor for Counterpoints Church Life, is an ordained minister who served for twenty-two years in pastoral ministry in Pennsylvania, Connecticut, Illinois, and Michigan. He is an adjunct teacher in several seminaries in this country and internationally. He serves as associate publisher and executive editor in the Church, Academic, and Ministry Resources team at Zondervan. He and his wife Margie, live in Grand Rapids, Michigan.
Other Titles In The "Zondervan Practical Ministry Guide" Series View All
$11.99




Order now to secure your copy when our stock arrives. 0 Available. Expected to ship in 2 weeks from Australia.

Formats

$11.99




Order now to secure your copy when our stock arrives. 0 Available. Expected to ship in 2 weeks from Australia.