Seven Events That Shaped the New Testament World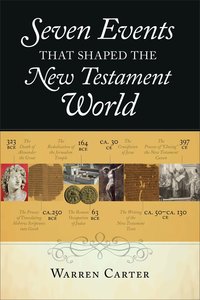 This useful, concise introduction to the worlds around the New Testament focuses on seven key moments in the centuries before and after Jesus. It enlightens readers about the beginnings of the Christian movement, showing how religious, political, and economic factors were interwoven in the fabric of the New Testament world.

Leading New Testament scholar Warren Carter has a record of providing student-friendly texts. This introduction offers a "big picture" focus and is logically and memorably organized around seven events, which Carter uses as launching pads to discuss larger cultural dynamics and sociohistorical realities that were in some way significant for followers of Jesus and the New Testament. Photos and maps are included.

- Publisher
You May Also Be Interested In
About "Seven Events That Shaped the New Testament World"
This useful, concise introduction to the worlds around the New Testament focuses on seven key moments in the centuries before and after Jesus. It enlightens readers about the beginnings of the Christian movement, showing how religious, political, and economic factors were interwoven in the fabric of the New Testament world.

Leading New Testament scholar Warren Carter has a record of providing student-friendly texts. This introduction offers a "big picture" focus and is logically and memorably organized around seven events, which Carter uses as launching pads to discuss larger cultural dynamics and sociohistorical realities that were in some way significant for followers of Jesus and the New Testament. Photos and maps are included.
- Publisher


Meet the Author
Warren Carter
Warren Carter (Ph.D. Princeton) has accepted Brite Divinity School's invitation to serve as Professor of New Testament. He was the Lindsey P. Pherigo Professor of New Testament at Saint Paul School of Theology. He is also the author of What Are They Saying about Matthew's Sermon on the Mount? Discipleship and Households: A Study of Matthew 10,20, John: Storyteller, Interpreter, Evangelist, Pontius Pilate: Portraits of a Roman Governor and Matthew: Storyteller, Interpreter, Evangelist,Revised Edition.
Table Of Contents
This Useful, Concise Introduction To The Worlds Around The New Testament Focuses On Seven Key Moments In The Centuries Before And After Jesus. It Enlightens Readers About The Beginnings Of The Christian Movement, Showing How Religious, Political, And Economic Factors Were Interwoven In The Fabric Of The New Testament World.

Leading New Testament Scholar Warren Carter Has A Record Of Providing Student-friendly Texts. This Introduction Offers A "big Picture" Focus And Is Logically And Memorably Organized Around Seven Events, Which Carter Uses As Launching Pads To Discuss Larger Cultural Dynamics And Sociohistorical Realities That Were In Some Way Significant For Followers Of Jesus And The New Testament. Photos And Maps Are Included.