Sex and the Soul of a Woman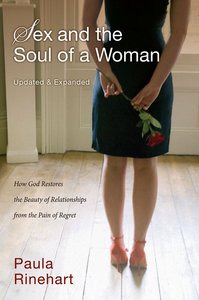 Compassionate counselor Paula Rinehart understands the high price a woman pays in loosening her sexual boundaries, and the unique role sex plays in forging a bond meant to last a lifetime. She shows women how to break free from the bondage of misused sexuality and create a new beginning in their relationships with men. This is required reading for every college-age woman who longs for a man to see her beauty and cherish it.

- Publisher
You May Also Be Interested In
About "Sex and the Soul of a Woman"
Compassionate counselor Paula Rinehart understands the high price a woman pays in loosening her sexual boundaries, and the unique role sex plays in forging a bond meant to last a lifetime. She shows women how to break free from the bondage of misused sexuality and create a new beginning in their relationships with men. This is required reading for every college-age woman who longs for a man to see her beauty and cherish it.
- Publisher


Meet the Author
Paula Rinehart
Paula Rinehart has touched women's lives through writing, speaking, and ministry for more than twenty years. Her private counseling practice includes clients who are men and couples with a focus on personal growth and intimacy with Christ. Paula and her husband Stacy have two grown children.
Books by Paula Rinehart Better Than My Dreams: Finding What You Long For Where You Might Not Think to Look; Strong Women, Soft Hearts; A Woman's Guide to Cultivating a Wise Heart and a Passionate LifeWhat's He Really Thinking?: How to Be a Relational Genius with the Man in Your Life
Koorong -Editorial Review.