Sex, Dating, and Relationships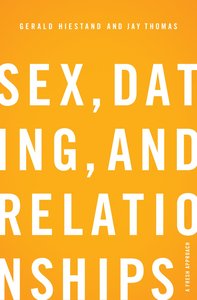 Answering questions like "How far is too far?" the authors articulate a biblical theology of dating aimed at persuading a new generation of Christians to get serious about honoring Christ with their sexuality.
You May Also Be Interested In
About "Sex, Dating, and Relationships"
Answering questions like "How far is too far?" the authors articulate a biblical theology of dating aimed at persuading a new generation of Christians to get serious about honoring Christ with their sexuality.
- Koorong
Considering the pervasive immorality and high divorce rate of our contemporary Christian culture, we evidently need a biblically based, theologically compelling, practical understanding of sex, dating, and relationships. Pastors Gerald Hiestand and Jay Thomas counteract this problem with their paradigm-shifting view of purity and relationships-a view that challenges even the basic assumptions of evangelical subculture.
Unlike most books on dating, this one cuts straight to the heart of dating relationships, asserting with confidence that the line must be drawn at "no sexual activity" whatever. Few have dared to define and apply the Bible's understanding of purity in premarital relationships to this degree, but Heistand and Thomas have done it. Furthermore, both authors are vocational pastors who communicate regularly with the target audience and have a proven ability to express biblical truth in a winsome and compelling manner. Sex, Dating, and Relationships adds a new, almost provocative voice to the conversation that, with straightforward theological insight, pleads with Christians to get serious about honoring Christ with their sexuality.
- Publisher
Meet the Authors
Gerald Hiestand
GERALD HIESTAND (MA, Trinity Evangelical Divinity School) is senior associate pastor at Calvary Memorial Church in Oak Park, Illinois, and currently serves as president of the Society for the Advancement of Ecclesial Theology.JAY S. THOMAS (ThM, MDiv, Gordon-Conwell Theological Seminary) serves as lead pastor of Chapel Hill Bible Church in Chapel Hill, North Carolina.
Customer Reviews For "Sex, Dating, and Relationships"
Write Your Own Review
Eye-opening read
By Adam,

Sep 15 2018


This book challenges the cultural norms of society when it comes to dating and relationships to give a fresh approach on the matter, using the Bible as their basis.


Hiestand and Thomas introduce the foundations of the relationships that the Bible teaches and utilises this to teach the audience how we can all maintain purity in pre-marital relationships. They reveal  what these Biblical relationships entail, highlighting the flaws of the current dating relationship of our society today. Finally, they give their recommendation of the correct way to finding a spouse in our society today. 


I would recommend this book to any christian who is currently looking for a spouse, is in a current dating relationship, or has been in a dating relationship in the past, and is helpful for all Christians in their walk of life and striving for purity.
---
Excellent then flawed
By Jeff,

May 23 2018
One of the great problems with understanding dating from a Christian point of view is the absence of any reference to such a thing in the New Testament. This book presents a convincing argument as to why Christians ought to push back against such a category of relationships (dating) and instead build relationships of absolute purity until marriage. 
Unfortunately, the clear and reasonable argument of the book is lost when Hiestand and Thomas come to present their alternative vision of how Christians might find a spouse. Their proposal of 'dating friendships' doesn't seem to account for how either emotions or culture functions in deciding on a marriage partner so doesn't offer the protection or security they imagine it does. I appreciated their passion for holiness in the process of building a relationship towards marriage but I think we're still looking for the book that explains how Christians might do that well. 
---
Conservatively mind blowing
By Josh,

Oct 23 2017
This book easily goes against modern conventional thinking of sex, dating and relationships. 

By rooting itself in the biblical truths, Hiestand and Thomas effectively shows us what, why and how to uphold God's original plan for marriage.

Would highly recommend you buying it, reading it and passing it on. 
---
Must read
By Aaron,

Aug 23 2017
This is a brilliant book on the topic of (as per title) sex, dating and relationships. 
The authors establish a biblical based approach to the topic, beginning by explicitly showing the link between gospel and sex. This book shows how biblical understanding about different type of relationships should inform how we should date.
Particularly helpful, is that this book isn't overly prescriptive or legalistic on what is 'right' or 'wrong', but instead it sets a biblical framework for the readers to follow and make decisions off. Additionally,
the authors thoughtfully include a chapter on maintaining sexual purity on a broader level than dating, and a chapter devoted on a biblical approach to singleness.

I personally haven't read too many books on dating, but this is definitely now my go-to book recommendation on the topic. Gospel centered and biblically based.. definitely worth a read.
---
Crucial for all Christians
By Hoa,

Jul 23 2017
Refreshingly different from most other Christian books on dating, this small book lays out a biblical approach to dating where other books try to develop new principles. The main thrust of the book is that dating falls under the category of neighbour relationship, which brings clarity to physical and emotional boundaries, and purity when dating. They contend that the modern dating relationship is a false category not found in the Bible, causing confusion among Christians. This is a highly recommended book.
{{review.title}}
By {{review.author.name}},

{{review.reviewCreatedDate | date:'MMM dd yyyy'}}

{{reviewdescription}}
{{review.text}}
---