Sexy Christians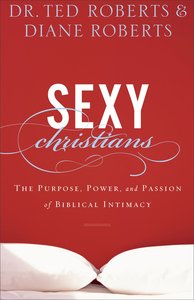 "Sexy Christians." The phrase sounds like an oxymoron, but God never intended it to be. Sexual fulfillment is, in fact, God's idea. Yet many Christians seem to think the more spiritual they are, the less sexual they will be, and the more sexual they are, the less spiritual they will be. Dr. Ted and Diane Roberts want to turn this thinking on its head.
Readers will learn why men and women see sex differently, what the greatest aphrodisiac is, and how to avoid the most lethal killer to a great sex life. The authors also explore what men's and women's sexual needs are and why they are so different, what sex is all about from God's perspective, and what the differences are between male and female sexual response cycles. End-of-chapter questions encourage couples to apply the book's principles at home.
Readers and groups can go a step further with the Sexy Christians Workbook. Loaded with additional content, this workbook is designed to challenge couples to explore the rewarding work of intimacy.

- Publisher
You May Also Be Interested In
About "Sexy Christians"
"Sexy Christians." The phrase sounds like an oxymoron, but God never intended it to be. Sexual fulfillment is, in fact, God's idea. Yet many Christians seem to think the more spiritual they are, the less sexual they will be, and the more sexual they are, the less spiritual they will be. Dr. Ted and Diane Roberts want to turn this thinking on its head.
Readers will learn why men and women see sex differently, what the greatest aphrodisiac is, and how to avoid the most lethal killer to a great sex life. The authors also explore what men's and women's sexual needs are and why they are so different, what sex is all about from God's perspective, and what the differences are between male and female sexual response cycles. End-of-chapter questions encourage couples to apply the book's principles at home.
Readers and groups can go a step further with the Sexy Christians Workbook. Loaded with additional content, this workbook is designed to challenge couples to explore the rewarding work of intimacy.
- Publisher


Meet the Authors
Ted Roberts
Dr. Ted Roberts is the founder of Pure Desire Ministries International and was the senior pastor of East Hill Church in Gresham, Oregon, from 1984-2007. He is the author of several books including, Pure Desire; For Men Only; Living Life Boldly; Going Deeper; and Failing Forward. A sought after speaker in the United States and around the world, Dr. Roberts is a certified sexual addiction therapist and enjoys scuba diving, triathalons, and underwater photography.
Diane Roberts
Diane Roberts is co-founder and conference speaker for Pure Desires Ministries International. She was women's ministry director/pastor and counselor at East Hill Church for more than twenty years. Author of Betrayed Heart and Accept No Substitutes, and contributing author of Pure Desire, Diane is a sought-after speaker who addresses issues of healthy sexuality and sexual addiction.