Sexy Girls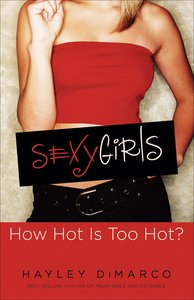 Every teenage girl wants to be sexy--she wants to be noticed, to be attractive. But what is "sexy," really? Do teen girls know what they are saying about themselves by the way they dress? Popular author Hayley DiMarco wants to help them figure it out.

Sexy Girls is an honest and provocative look at everything sexy--from clothes and self-presentation to body image. With her approachable style and wit, Hayley shows teen girls

- why little things called hormones affect the way guys look at girls
- what girls are really saying by the way they dress
- what God thinks about teens trying to be sexy

With quizzes, sidebars, and questions for reflection, Sexy Girls is the perfect opportunity for girls to figure out who they are and how they are going to present that image to their peers.

- Publisher
You May Also Be Interested In
About "Sexy Girls"
Every teenage girl wants to be sexy--she wants to be noticed, to be attractive. But what is "sexy," really? Do teen girls know what they are saying about themselves by the way they dress? Popular author Hayley DiMarco wants to help them figure it out.

Sexy Girls is an honest and provocative look at everything sexy--from clothes and self-presentation to body image. With her approachable style and wit, Hayley shows teen girls

- why little things called hormones affect the way guys look at girls
- what girls are really saying by the way they dress
- what God thinks about teens trying to be sexy

With quizzes, sidebars, and questions for reflection, Sexy Girls is the perfect opportunity for girls to figure out who they are and how they are going to present that image to their peers.
- Publisher


Meet the Author
Hayley Dimarco
Hayley DiMarco is chief creative officer and founder of Hungry Planet, where she writes and creates cutting-edge books that connect with the post-modern mind. She has written and co-written numerous bestselling books for both teens and adults, including Sexy Girls -The Evangelical Christian Publishers Christian Book Award Winner,Children/Youth Category for 2007 and Technical Virgin also one of the five finalists.
Other popular titles include Dateable, Mean Girls, Marriageable, and Stupid Parents. Before all this bestseller stuff, Hayley was the teen brand manager for Thomas Nelson, a huge Christian book publisher. Before that, she worked for a little shoe company called Nike. She still misses the free swoosh swag.