Shadow in Serenity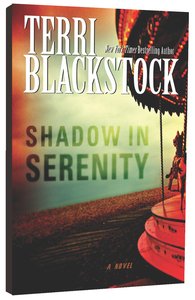 Carny Sullivan, suspicious about suave, handsome Logan Brisco and his charming ways, is drawn to him, despite her best intentions and her determination to expose his plans for her quiet Texas town.

Carny Sullivan grew up in the zany world of a travelling carnival. Quaint and peaceful Serenity, Texas, has given her a home, a life, and a child. Logan Brisco is the smoothest, slickest, handsomest man Serenity, Texas has ever seen. But Carny Sullivan knows a con artist when she sees one-and she's seen plenty, starting with her father. As far as Carny Sullivan can tell, she's the only one in town who has his number. Because from his Italian shoes to his movie-actor smile, Logan has the rest of the town snowed.

Carny is determined to reveal Brisco's selfish intentions before his promise to the townspeople for a cut in a giant amusement park sucks Serenity dry. Yet, as much as she hates his winning ways, there is a man behind that suave smile, a man who may win her heart against her will.



- Publisher
You May Also Be Interested In
About "Shadow in Serenity"
Carny Sullivan, suspicious about suave, handsome Logan Brisco and his charming ways, is drawn to him, despite her best intentions and her determination to expose his plans for her quiet Texas town.

Carny Sullivan grew up in the zany world of a travelling carnival. Quaint and peaceful Serenity, Texas, has given her a home, a life, and a child. Logan Brisco is the smoothest, slickest, handsomest man Serenity, Texas has ever seen. But Carny Sullivan knows a con artist when she sees one-and she's seen plenty, starting with her father. As far as Carny Sullivan can tell, she's the only one in town who has his number. Because from his Italian shoes to his movie-actor smile, Logan has the rest of the town snowed.

Carny is determined to reveal Brisco's selfish intentions before his promise to the townspeople for a cut in a giant amusement park sucks Serenity dry. Yet, as much as she hates his winning ways, there is a man behind that suave smile, a man who may win her heart against her will.


- Publisher


Meet the Author
Terri Blackstock
Terri Blackstock (www.terriblackstock.com), known for her Up All Night Fiction, has sold six million books worldwide. She is the bestselling, award-winning author of Last Light, Night Light, True Light and Dawn's Light of the Restoration Series, as well as the Sun Coast Chronicles, Second Chances, Newpointe 911, and Cape Refuge series.. Her most recent books include Intervention and Double-Minds
Koorong -Editorial Review.
Customer Reviews For "Shadow in Serenity"
Write Your Own Review
Fun Blackstock Romance
By Iola,

Jan 16 2012
Con man Logan Brisco breezes into Serenity, Texas, with the aim of relieving it's good citizens of their cash. Carny Sullivan is a widowed single mom who grew up surrounded by con artists, and who is not about to let her friends get ripped off by Logan, despite his good looks and endless charm.  Carny makes no secret of her desire to bring Logan down a peg or two, and her challenge both amuses and intrigues him, setting the scene for some colourful goings-on.  As Logan spends longer in Serenity, he develops relationships with more of the people, and his perceptions gradually begin to change. Meanwhile, Carny knows from her own life that God can change anyone, even a con artist, and begins to doubt her initial impressions of Logan.  Basically, this was a hoot. The scenes between Carny and Logan were consistently underpinned by an amusing combination of mistrust and attraction, the story was fun, and the book had the desired ending without in any way appearing predictable.  I really enjoyed this as a fun read underpinned by a sound Christian message. 
---
A really good read!
By Denise,

Oct 28 2011
Terri Blackstock is one of my favorite authors. Her storylines are always unique.
Carny Sullivan grew up in the world of traveling carnival. These days she lives in the quiet friendly town of Serenity, Texas with her son. There she's found God, peace and good friends.
When smooth talking, good-looking Logan Brisco rocks into town Carny spares no time in telling him she knows a con-artist when she sees one. Carny is very protective of her town and sets out to expose his lies. Logan Brisco suave, in his thousand-dollar suit is delighted in the challenge that sassy street-smart Carny presents. And then Logan starts to break some of his own 'golden rules'. Rule No 1 Never fall in love. The moment a woman got under your skin, you were to leave town. There was nothing more dangerous to his chosen career. Rule No 3 Never stay in one place too long- One day too long could make the difference between freedom and years of incarceration.
As the characters unfold you are further drawn in to the town of Serenity. Carney rides a Harley and lives life a little bit on the wild side. Logan is a highly intelligent man whom you loathe as he casually fleeces the townspeople of their money. But as you learn of his childhood you are also filled with compassion for him. He is drawn to Carny and her son which starts to mess up his well laid plans. He knows he should have left town by now and the longer Logan stays in Serenity the more you wonder how this story is going to play out. 
{{review.title}}
By {{review.author.name}},

{{review.reviewCreatedDate | date:'MMM dd yyyy'}}

{{reviewdescription}}
{{review.text}}
---