Shadowed (#03 in Underground Zealot Series)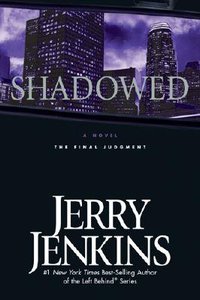 In the wake of a miracle of global proportions, National Peace Organization operative Paul Stepola has been exposed as a double agent-serving the zealot underground of people of faith in an atheistic world while sworn to persecute them. Now he and his family are on the run, targets of the very agency he has served for so many years. Follow him and his wife, Jae, and young children, Brie and Connor, as they try to elude capture and sentencing for treason. In this rapid-fire conclusion to the best-selling Soon series, the law banning the practice of religion around the globe is on the brink of collapse. The tide is turning . . . but personal, family hostilities threaten to end in disaster before the world comes to its senses

- Publisher
You May Also Be Interested In
About "Shadowed (#03 in Underground Zealot Series)"
In the wake of a miracle of global proportions, National Peace Organization operative Paul Stepola has been exposed as a double agent-serving the zealot underground of people of faith in an atheistic world while sworn to persecute them. Now he and his family are on the run, targets of the very agency he has served for so many years. Follow him and his wife, Jae, and young children, Brie and Connor, as they try to elude capture and sentencing for treason. In this rapid-fire conclusion to the best-selling Soon series, the law banning the practice of religion around the globe is on the brink of collapse. The tide is turning . . . but personal, family hostilities threaten to end in disaster before the world comes to its senses
- Publisher


Meet the Author
Jerry Jenkins
Jerry B. Jenkins, former Vice President for Publishing and currently Writer-at-Large for the Moody Bible Institute of Chicago, is the author of more than 150 books, including the best-selling Left Behind series. Sixteen of his books have reached the New York Times best-seller list and have also appeared on the USA Today, Publishers Weekly and Wall Street Journal best-seller lists. Desecration, book #9 in the Left Behind series was the best-selling novel in America in 2001. Also the former editor of Moody Magazine, his writing has appeared in dozens of Christian periodicals.His non-fiction includes as-told-to biographies of such notable men as Bill Gaither. He helped Dr. Billy Graham with his memoirs, Just As I Am, also a New York Times best seller. Jerry owns Jenkins Entertainment, a filmmaking company in Los Angeles, which produced the critically-acclaimed movie Hometown Legend based on his book of the same name. Jerry Jenkins also owns the Christian Writers Guild, which aims to train tomorrow's professional Christian writers.Under Jerry's leadership, the Guild is steadily expanding its services to include a writers' advocacy centre, college credit courses, a critique service, literary registration services, and writing contests. As a marriage and family author and speaker, Jenkins has been a frequent guest on Dr. James Dobson's Focus On the Family radio program.Jerry and his wife Dianna have three grown sons and three grandchildren. - Publisher.
Other Titles In The "Underground Zealot Series" Series