Shadows of Things to Come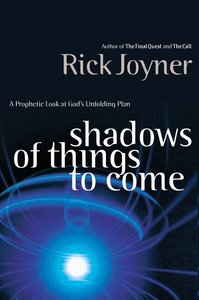 "One of the greatest sources of prophetic vision is found by better understanding our past," says Rick Joyner. "I studied Christ's interaction with the apostles as well as the life of the early church to be obedient to a heavenly vision in which I was told that I would not be able to accurately foresee the future until I understood the past."In this important book Joyner looks at the life and ministry of the apostles and of later generations so that Christians today can close the openings the enemy has used to gain entry and do his deadly work. He examines the successes and failures of Christians of the past so we can better understand how to be God's servants today.

- Publisher
You May Also Be Interested In
About "Shadows of Things to Come"
"One of the greatest sources of prophetic vision is found by better understanding our past," says Rick Joyner. "I studied Christ's interaction with the apostles as well as the life of the early church to be obedient to a heavenly vision in which I was told that I would not be able to accurately foresee the future until I understood the past."In this important book Joyner looks at the life and ministry of the apostles and of later generations so that Christians today can close the openings the enemy has used to gain entry and do his deadly work. He examines the successes and failures of Christians of the past so we can better understand how to be God's servants today.
- Publisher


Meet the Author
Rick Joyner
Rick Joyner is the founder and executive director of MorningStar Publications and Ministries in Charlotte, North Carolina. He has written more than a dozen books, including The Final Quest, The Prophetic Ministry, The Harvest, There Were Two Trees in the Garden, and The Call. Rick is also the editor of The Morning Star Journal and The Morning Star Prophetic Bulletin, and is the director of the MorningStar Fellowship of Ministries and the MorningStar Fellowship of Churches. Rick lives in North Carolina with his wife, Julie, and their five children.