Shalom in Psalms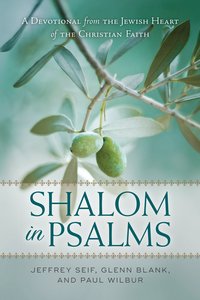 You May Also Be Interested In
About "Shalom in Psalms"
The ancient Jewish life-giving balm in Psalms helps us recover our equilibrium in a world where so much knocks us off balance and steals our shalom. This devotional and Tree of Life Version of the Bible come from the heart of today's Messianic Jewish movement to provide the Jewish essence of Psalms in a way that promises shalom for the heart and soul.
- Publisher


Meet the Authors
Jeffrey Seif
Dr. Jeffrey Seif is at the teaching helm of Zola Levitt Ministries and is the ministry?'s principal spokesperson. He is teaching on television, writing books and articles, and ministering in churches across America. With Zola, Jeff previously co-created our correspondence course, The Institute of Jewish-Christian Studies. Jeff has a master?'s degree and doctorate from Southern Methodist University, Dallas. He has been a Bible College professor for the last seventeen years, teaching over 400 students each semester. He has also been a pastor with at least four churches spanning over twenty yearsA
Glenn Blank
Messianic Rabbi Glenn Blank leads Beit Simcha (www.beitsimcha.org), a Messianic Jewish congregation in Allentown, Pennsylvania.
Paul Wilbur
Paul Wilbur travels throughout the United States and the world sharing the love of God through Yeshua (Jesus) the Messiah.
In 1990 Paul recorded his first release with Integrity entitled Up To Zion. Since then he has recorded a number of solo albums including three performed live in Jerusalem: Shalom Jerusalem, Jerusalem Arise, and Lion Of Judah. Holy Fire (1997) and The Watchman (2006) were recorded in Houston and San Antonio respectively. Two more special release collections entitled Pray For The Peace of Jerusalem and Praise Adonai were released in 2007 and 2008 to honor the 60th birthday of Israel and the 40th anniversary of the re-unification of Jerusalem.