She Believes: Embracing the Life You Were Created to Live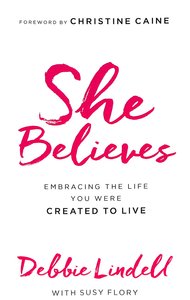 :Dynamic Leader Helps Women Embrace the Life They Were Created to Live

With over seven billion people in the world, it can be difficult for women to believe they were designed for a purpose. That they individually have value, and their life has meaning that goes beyond what they see or have been told to believe. But that's just the life-changing message Debbie Lindell passionately shares and champions. Every woman, no matter her history, social status, or position in society, was beautifully and magnificently designed by her Creator to live an amazing life.

In She Believes, Lindell shares with women the beautiful truth of God's love for them, empowering them to live out their own unique purpose and bring change to their homes, their workplaces, their communities, and the world. With personal stories and biblical truth, Debbie invites women to trust God's Word--and discover the incredible, abundant life that he created them to live.

- Publisher
You May Also Be Interested In
About "She Believes: Embracing the Life You Were Created to Live"
:Dynamic Leader Helps Women Embrace the Life They Were Created to Live

With over seven billion people in the world, it can be difficult for women to believe they were designed for a purpose. That they individually have value, and their life has meaning that goes beyond what they see or have been told to believe. But that's just the life-changing message Debbie Lindell passionately shares and champions. Every woman, no matter her history, social status, or position in society, was beautifully and magnificently designed by her Creator to live an amazing life.

In She Believes, Lindell shares with women the beautiful truth of God's love for them, empowering them to live out their own unique purpose and bring change to their homes, their workplaces, their communities, and the world. With personal stories and biblical truth, Debbie invites women to trust God's Word--and discover the incredible, abundant life that he created them to live.
- Publisher


Meet the Authors
Debbie Lindell
Debbie Lindell leads and serves alongside her husband John as a lead pastor at James River Church in Ozark, Missouri. With an estimated weekly attendance of over 14,000 people, James River has grown to become a leading church in the nation. In 2003, Debbie launched Designed for Life Women's Conference, with about 375 in attendance. Since then, the annual conference has grown to draw nearly 10,000 women. Learn more at designedforlife.org.
Susy Flory
Susy Flory is a writer, speaker, journalist, and animal lover who inspires people to embrace passion and adventure. She authored So Long Status Quo, coauthored Fear Not Da Vinci, and has written for Guideposts and Today's Christian Woman. She holds degrees in English and psychology. www.susyflory.com
Christine Caine (Fwd)
A sought after speaker around the world, Christine Caine is passionate about the God life and seeing the local Church flourish across the earth.

She is a gifted communicator with a heart for reaching the lost and helping people unlock their God-given potential.

Christine is known for her fdtell-it-like-it-is,fd passionate, (and often humorous) way of communicating profound messages of hope and inspiration. Her message is impacting the lives of leaders, women, youth, the wider church and the unchurched across all continents.

She is one of the pastors and directors of Equip & Empower Ministries, as well as the founder of The A21 Campaign. Together with her husband Nick, and daughters Catherine and Sophia, Christine spends much of the year travelling to reach the lost, strengthen leadership, champion the cause of justice and build the local Church globally.

Her books include: A Life Unleashed, The Core Issue, Run To Win and Can I Have (and do) It All, Please?

Equip & Empower