Shifting Shadows of Supernatural Power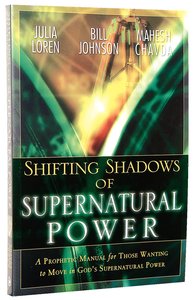 A storm is brewing. . . who is ready for the coming showdown?

SHIFTING SHADOWS OF SUPERNATURAL POWER charts the storm brewing between the power of God and schemes of the enemy; and encourages believers to step out of the shadows and into the Light.

A history of the prophetic movement in the United States combined with interviews of many well-known prophetic voices such as Jill Austin, Heidi and Roland Baker, Todd Bentley, Stacey Campbell, Randy Clark, Graham Cooke, James Goll, Bill Hamon, John Paul Jackson, Rick Joyner and Patricia King serve as a compass to navigate the storm and change the course of a too-complacent, intellectual church. The author equips you to:

* Step into God's Presence
* Define shifting shadows' origins
* Sharpen your discernment
* Recognize converging movements
* Increase in power and authority

Arm yourself with knowledge to distinguish the difference between power that comes from God, the enemy, or even yourself. By tapping into God's authentic power and using His gifts of the Spirit, you will access His supernatural signs and wonders - today.


- Publisher
You May Also Be Interested In
About "Shifting Shadows of Supernatural Power"
A storm is brewing. . . who is ready for the coming showdown?

SHIFTING SHADOWS OF SUPERNATURAL POWER charts the storm brewing between the power of God and schemes of the enemy; and encourages believers to step out of the shadows and into the Light.

A history of the prophetic movement in the United States combined with interviews of many well-known prophetic voices such as Jill Austin, Heidi and Roland Baker, Todd Bentley, Stacey Campbell, Randy Clark, Graham Cooke, James Goll, Bill Hamon, John Paul Jackson, Rick Joyner and Patricia King serve as a compass to navigate the storm and change the course of a too-complacent, intellectual church. The author equips you to:

* Step into God's Presence
* Define shifting shadows' origins
* Sharpen your discernment
* Recognize converging movements
* Increase in power and authority

Arm yourself with knowledge to distinguish the difference between power that comes from God, the enemy, or even yourself. By tapping into God's authentic power and using His gifts of the Spirit, you will access His supernatural signs and wonders - today.

- Publisher


Meet the Authors
Bill Johnson
Johnson is a fifth-generation pastor with a rich heritage in the Holy Spirit. Together Bill and his wife serve a growing number of churches that have partnered for revival. Bill and Beni Johnson are the senior pastors of Bethel Church, Redding, California.
Mahesh Chavda
Mahesh Chavda grew up in Mombasa, Kenya, the son of a prominent Hindu teacher. At age sixteen he had a dramatic encounter with Christ and committed his heart to Jesus. Bonnie Chavda is executive director of Mahesh Chavda Ministries International. She has served with her evangelist husband in global mission work since 1980. Together they have written numerous bestsellers, including Only Love Can Make a Miracle; Make Room for Your Miracle: Releasing Resurrection Power in Your Life; Storm Warrior: A Believer's Strategy for Victory and have led more than 750,000 people to Christ around the world. Mahesh and Bonnie are cofounders and senior pastors of All Nations Church in Charlotte, North Carolina.
Julia Loren
Julia Loren, a former journalist and counselor, is the author of several books, including Shifting Shadows of Supernatural Power (with Bill Johnson & Graham Cooke), and a frequent contributor to Charisma and other Christian publications. She has served in ministry more than 12 years and speaks regularly at workshops and retreats around the world. She lives in Redding, California.