Shine Like the Dawn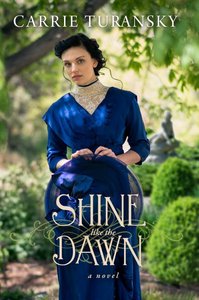 In a quiet corner of northern Edwardian England, Margaret Lounsbury diligently works in her grandmother's millinery shop, making hats and caring for her young sister. Several years earlier, a terrible event shattered their idyllic family life and their future prospects. Maggie is resilient and will do what she must to protect her sister Violet. Still, the loss of her parents weighs heavily on her heart as she begins to wonder if what happened that day on the lake…might not have been an accident.

When wealthy inventor and industrialist William Harcourt dies, his son and Maggie's estranged childhood friend, Nathaniel, returns from his time in the Royal Navy and inherits his father's vast estate, Morningside Manor. He also assumes partial control of his father's engineering company and the duty of repaying an old debt to the Lounsbury family. But years of separation between Nate and Maggie have taken a toll, and Maggie struggles to trust her old friend.

Can Maggie let go of the resentment that keeps her from forgiving Nate-and reconciling with God? Will the search for the truth about her parents' death draw the two friends closer or leave them both with broken hearts?

- Publisher
You May Also Be Interested In
About "Shine Like the Dawn"
In a quiet corner of northern Edwardian England, Margaret Lounsbury diligently works in her grandmother's millinery shop, making hats and caring for her young sister. Several years earlier, a terrible event shattered their idyllic family life and their future prospects. Maggie is resilient and will do what she must to protect her sister Violet. Still, the loss of her parents weighs heavily on her heart as she begins to wonder if what happened that day on the lake…might not have been an accident.

When wealthy inventor and industrialist William Harcourt dies, his son and Maggie's estranged childhood friend, Nathaniel, returns from his time in the Royal Navy and inherits his father's vast estate, Morningside Manor. He also assumes partial control of his father's engineering company and the duty of repaying an old debt to the Lounsbury family. But years of separation between Nate and Maggie have taken a toll, and Maggie struggles to trust her old friend.

Can Maggie let go of the resentment that keeps her from forgiving Nate-and reconciling with God? Will the search for the truth about her parents' death draw the two friends closer or leave them both with broken hearts?
- Publisher


Meet the Author
Carrie Turansky
Carrie Turansky lives in New Jersey with her husband Scott. They have been married for over thirty years and have five young adult children and two grandsons. Carrie leads women's ministry at their church and teaches Bible studies. She also enjoys reading, gardening, and walking around the lake near their home. Carrie and her family spent one year in Kenya as missionaries, giving them a passion for what God is doing around the world. Carrie's website is: www.carrieturansky.com.