Sifted (Exponential Series)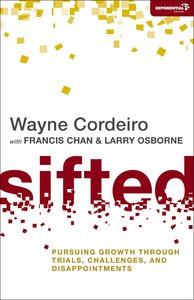 In this book, pastor and seasoned church leader Wayne Cordeiro speaks the truth in love, offering wisdom and insight to prepare leaders as they face the difficulties and hardships of planting and leading churches, while providing encouragement and inspiration for the journey. An experienced practitioner, Wayne shares the things he wishes he'd known when he was starting a new church. With additional stories from Francis Chan and Larry Osborne, each chapter includes a thought-provoking challenge question to develop a heart that is surrendered to God, focused on 'being and becoming' versus 'doing and accomplishing.' Wayne writes about a healthy integration and balance of personal care and leadership amidst the difficulties of church leadership. Instead of a 'how to' book on models and methods, this is a combination of a self-assessment book that challenges leaders' scorecards of success, encourages leaders to realize that they are not alone in what they are experiencing, and provides wisdom for the long haul to position younger leaders for a life of ministry and finish strong.

- Publisher
You May Also Be Interested In
About "Sifted (Exponential Series)"
In this book, pastor and seasoned church leader Wayne Cordeiro speaks the truth in love, offering wisdom and insight to prepare leaders as they face the difficulties and hardships of planting and leading churches, while providing encouragement and inspiration for the journey. An experienced practitioner, Wayne shares the things he wishes he'd known when he was starting a new church. With additional stories from Francis Chan and Larry Osborne, each chapter includes a thought-provoking challenge question to develop a heart that is surrendered to God, focused on 'being and becoming' versus 'doing and accomplishing.' Wayne writes about a healthy integration and balance of personal care and leadership amidst the difficulties of church leadership. Instead of a 'how to' book on models and methods, this is a combination of a self-assessment book that challenges leaders' scorecards of success, encourages leaders to realize that they are not alone in what they are experiencing, and provides wisdom for the long haul to position younger leaders for a life of ministry and finish strong.
- Publisher


Meet the Authors
Wayne Cordeiro
Wayne Cordeiro is senior pastor of New Hope Christian Fellowship in Honolulu, Hawaii, one of the nation's fastest growing churches. Pioneered by him, it has grown to over 12,000 in weekend attendance since 1995, with many attendees being first-time Christians. Wayne is an author, songwriter, and highly sought after conference speaker. His books include Doing Church as a Team, Attitudes that Attract Success, The Divine Mentor: Growing Your Faith as You Sit at the Feet of the Savior, and The Dream Releasers. His speaking takes him around the world. He is a church planter at heart and has helped to plant 83 churches in the Pacific Rim. His most recent publication is Leading on Empty: Refilling Your Tank and Renewing Your Passion.
Francis Chan
Francis Chan (born 1967) is the former founding pastor and teaching pastor of Cornerstone Community Church in Simi Valley, California. After being raised by his Buddhist grandmother in Hong Kong, Francis came to America at the age of five. His mother, stepmother and father all tragically died before his 13th birthday. Francis came to know the Lord in high school and in 1994 he and his wife Lisa started Cornerstone Community Church in Simi Valley. From just 30 original attendees, Cornerstone grew to 1,600 members by 2000. Francis stepped down from his role at Cornerstone in 2010 - by which time the church had 4,000 regular attendees. He believed God was calling him and his wife to take a 'step of faith' to launch a new ministry as an extension of Cornerstone Church, in a large city in America. Since 2011, Chan has concentrated his church planting efforts on San Francisco, where he has been involved in Abundant Life Christian Fellowship, a multiethnic, non-denominational evangelical church.

At Cornerstone Francis started up diverse and influential ministries including Cornerstone Television and Eternity Bible College (from 2004). He has been a highly sought-after speaker at many Christian colleges and youth conferences in the US and internationally. His commitment is to teach directly from the Bible and his passion is to see the next generation of American Christians display a much deeper love for Jesus.

Francis is committed to radical gospel-centred generosity in relation to his own finances. He gives away the majority of his income to charities, including the royalties from sales of his books and training resources. He is on the board of directors for Children's Hunger Fund and World Impact. Francis has used astute investments in restaurants and real estate to finance his own mission outreach efforts.

Francis is the best-selling author of several books, teaching DVDs and study guides. His book Crazy Love: Overwhelmed by a Relentless God has topped a million sales since its release in 2009, and all the proceeds are donated to charity. With an authentic message, a radical call to true faith and a dare to fall head over heels in love with God, Crazy Love's challenge has resonated in hearts of all ages.

Francis and his wife Lisa, have seven children, and live in San Francisco.
Other Titles In The "Exponential Series" Series View All
$18.99

Nett


Available for immediate download.

Formats

$27.99




Available Now. 1 Available

Formats

$29.99




Order now to secure your copy when our stock arrives. 0 Available. Expected to ship July 2019.

Formats