Signposts to God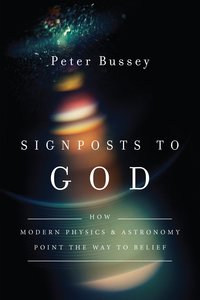 "The heavens declare the glory of God" (Ps 19:1). Can we still sing the words of the Psalmist in an age where scientists talk about an expanding cosmos, the Higgs boson, and the multiverse?In Signposts to God particle physicist Peter Bussey introduces readers to the mysteries of modern physics and astronomy. Written in clear, accessible prose, Bussey provides a primer on topics such as the laws of nature, quantum physics, fine-tuning, and current cosmological models. He shows that despite the remarkable achievements of science, the latest research in these fields does not lead to simple physicalism in which physical processes are able to explain everything that exists.Bussey argues that, far from ruling out a divine Creator, modern physics and astronomy present us with compelling signposts to God. The more we know about the cosmos and our presence in it, the more plausible belief in God becomes. We can be intellectually satisfied in both science and the Christian faith. Written by someone who has worked for years in scientific research, Signposts to God is a timely and winsome response to a cultural stalemate.

- Publisher
You May Also Be Interested In
About "Signposts to God"
"The heavens declare the glory of God" (Ps 19:1). Can we still sing the words of the Psalmist in an age where scientists talk about an expanding cosmos, the Higgs boson, and the multiverse?In Signposts to God particle physicist Peter Bussey introduces readers to the mysteries of modern physics and astronomy. Written in clear, accessible prose, Bussey provides a primer on topics such as the laws of nature, quantum physics, fine-tuning, and current cosmological models. He shows that despite the remarkable achievements of science, the latest research in these fields does not lead to simple physicalism in which physical processes are able to explain everything that exists.Bussey argues that, far from ruling out a divine Creator, modern physics and astronomy present us with compelling signposts to God. The more we know about the cosmos and our presence in it, the more plausible belief in God becomes. We can be intellectually satisfied in both science and the Christian faith. Written by someone who has worked for years in scientific research, Signposts to God is a timely and winsome response to a cultural stalemate.
- Publisher


Meet the Author
Peter Bussey
Peter Bussey (PhD, ScD, Cambridge) is a particle physicist and an honorary research fellow in the school of physics and astronomy at the University of Glasgow. He is a fellow of the Institute of Physics and previously served at Cambridge University, CERN, and Sheffield University. Bussey is involved in research with several international particle physics collaborations, including the ZEUS Experiment at DESY in Hamburg, Germany, the CDF Experiment at Fermilab in Chicago, and the ATLAS Experiment at CERN, Geneva, Switzerland. He is widely published in journals such as Science and Christian Belief.
Table Of Contents
"the Heavens Declare The Glory Of God" (ps 19:1). Can We Still Sing The Words Of The Psalmist In An Age Where Scientists Talk About An Expanding Cosmos, The Higgs Boson, And The Multiverse?in signposts To God Particle Physicist Peter Bussey Introduces Readers To The Mysteries Of Modern Physics And Astronomy. Written In Clear, Accessible Prose, Bussey Provides A Primer On Topics Such As The Laws Of Nature, Quantum Physics, Fine-tuning, And Current Cosmological Models. He Shows That Despite The Remarkable Achievements Of Science, The Latest Research In These Fields Does Not Lead To Simple Physicalism In Which Physical Processes Are Able To Explain Everything That Exists.bussey Argues That, Far From Ruling Out A Divine Creator, Modern Physics And Astronomy Present Us With Compelling Signposts To God. The More We Know About The Cosmos And Our Presence In It, The More Plausible Belief In God Becomes. We Can Be Intellectually Satisfied In Both Science And The Christian Faith. Written By Someone Who Has Worked For Years In Scientific Research, signposts To God Is A Timely And Winsome Response To A Cultural Stalemate.