Silenced (#04 in Alaskan Courage Series)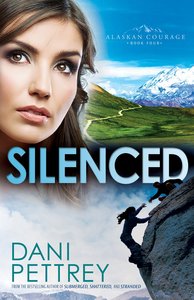 Romantic Suspense's Rising Star Returns with an Electric New Thriller

A relaxing day of rock climbing takes a disturbing turn when Kayden McKenna's route leads her face to face with a dead climber. Is it a terrible accident or something sinister? When the case is handed to the overburdened sheriff, he turns to Jake Westin. With Jake's past now revealed, he's ready to use his talent for investigation again--but he could never prepare for where the case will take him.

Kayden and Jake soon realize that the death was no accident. And worse, it seems the killer is on to them. When strange things begin happening in Yancey, Jake is terrified that once again his world may put someone he loves in danger. But the truth is far worse than he could ever imagine.

- Publisher
You May Also Be Interested In
About "Silenced (#04 in Alaskan Courage Series)"
Romantic Suspense's Rising Star Returns with an Electric New Thriller

A relaxing day of rock climbing takes a disturbing turn when Kayden McKenna's route leads her face to face with a dead climber. Is it a terrible accident or something sinister? When the case is handed to the overburdened sheriff, he turns to Jake Westin. With Jake's past now revealed, he's ready to use his talent for investigation again--but he could never prepare for where the case will take him.

Kayden and Jake soon realize that the death was no accident. And worse, it seems the killer is on to them. When strange things begin happening in Yancey, Jake is terrified that once again his world may put someone he loves in danger. But the truth is far worse than he could ever imagine.
- Publisher


Meet the Author
Dani Pettrey
Dani Pettrey is a wife, homeschooling mom, and author. She feels blessed to write inspirational romantic suspense because it incorporates so many things she loves--the thrill of adventure, nail biting suspense, the deepening of her characters' faith, and plenty of romance. She and her husband reside in Maryland with their two teenage daughters. Visit her website at www.danipettrey.com. A
Customer Reviews For "Silenced (#04 in Alaskan Courage Series)"
Write Your Own Review
Perfect!
By Trudy,

Sep 08 2016
Another wonderful read from Dani. I love the way she brings the characters to life and sets each apart yet unites them all at the same time. I love the strong female characters she writes about and how they are each capable themselves and not simply 'damsels in distress' waiting to be rescued. She gives strength and confidence to the women which creates a meaningful fun read. 
---
I wish these books were longer
By Alyce,

Feb 09 2016
All our favourite characters are back in book 4 and we finally find out Jake's history. I found this book a little slower paced than the others but still a fantastic read. Would definitely recommend it.
---
Left hanging
By Bri,

Mar 25 2015
Dani did a great job at leaving me hanging and guessing throughout the entire book, I hadn't been able to guess who the culprit and people responsible were until the very end when it was revealed!
As always, she had the perfect romance playing on the side between the characters, and it was slightly more believable with occasional animosity between them.
You finally hear the full background to Jake's story and the wait was worth it! And Kayden being her usually stubborn self only brings more character into the whole story. 

---
Great 4th Book
By Rochelle, NSW,

Jul 02 2014
Dani Pettrey has delivered a great read in the 4th book of her Alaskan Courage Series.
The McKenna clan are all present and their individual stories are added to which I love. Their outdoor lifestyle is enjoyed and adventures are had. Jake's past now revealed is deputized and partnered with Kayden and her Rock climbing knowledge as investigations get underway.
Trying to hide feelings are always difficult and sometimes softening of the heart is hard too. But what's more important .....
A death, an investigation, a wedding and the truth will keep you page turning.

---
Excellent Romantic Suspense
By Iola,

Jul 01 2014

Silenced is the fourth book in the Alaskan Courage series, each of which centres on one of the McKenna siblings. Kayden (female, despite the masculine name) is out rock climbing one day when she finds a body. What is first thought to be an accident soon proves to be murder, and Kayden finds herself pulled into the Jake's investigation because of her climbing knowledge. 

I'm a real romantic suspense fan, and Silenced ticks all the boxes. Great location. Lovable hero. Strong heroine. A problem to solve. A mystery antagonist who is out to get them. A close family. And a strong faith element running through it all. What's not to like? Having said that, it's a book best considered a quick and entertaining read, as there were some oddities around the plot (like how the first half didn't actually relate to the second-they found the murderer so quickly I thought it must be a red herring and they were going to reveal that someone else actually did it. But no). Enjoyable, but it will pay not to think about it too much. 

While the mystery and romance plots are self-contained, there are a lot of references to Kayden's brothers and sisters (and their respective spouses), and it will be easier to keep these straight if you've read the earlier books. Recommended for romantic suspense fans. 

Thanks to NetGalley for providing a free book for review
{{review.title}}
By {{review.author.name}},

{{review.reviewCreatedDate | date:'MMM dd yyyy'}}

{{reviewdescription}}
{{review.text}}
---
Other Titles In The "Alaskan Courage Series" Series View All